Cryptocurrency has been gradually soaring in both popularity and acceptance, and there are even a few big names in the global market such as Tesla that accept Bitcoin as a payment mode. It is no wonder then, that many businesses are keeping an eye on this readily emerging market and keen to jump on the bandwagon. Given that Estonia has been one of the trailblazers in the cryptocurrency market, a natural choice for a gateway into the crypto industry is the Estonia crypto license. It is one of the most popular options for good reason. Here are the five main reasons to get Estonian crypto licenses.
Reasons why you should use Estonian crypto licenses: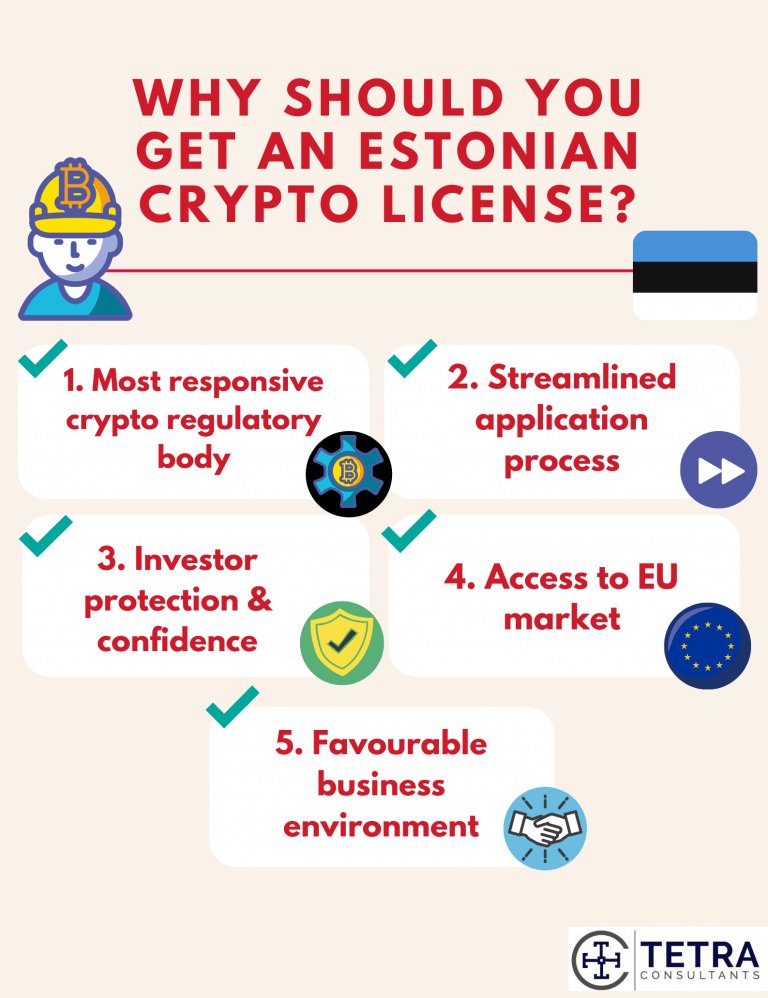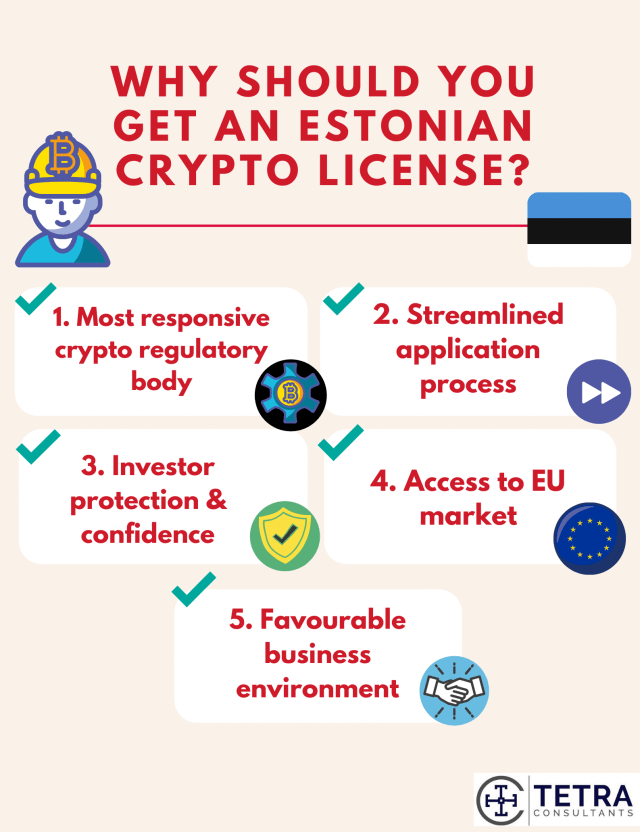 #1 Most responsive option
As mentioned, Estonia is one of the trailblazers in the cryptocurrency market, and they have established themselves as one of the most responsive countries out of the available alternatives. They were one of the first countries to regulate and license cryptocurrency, and since then have tabled amendments and improvements to their regulatory framework in 2019 and 2020 and are even discussing further amendments this year. Through this, they have shown their responsiveness to the needs of their investors. Not only have they acknowledged the calls for tighter regulations and certainty, but more importantly, they have acted and delivered on it. In many cases, they are even more responsive than the European Union (EU) regulatory system, making the current

Estonia crypto regulation

one of the most updated globally.
#2 Streamlined application process
Beyond just responsiveness, they also have a wealth of experience from a macro to micro level. Being of the earlier adopters of crypto, they have issued more than 2,000 crypto licenses already, making Estonia a hotbed of seasoned officials in banking and government who are experienced in dealing with foreign investors and businesses. Hence, this makes an

Estonia cryptocurrency exchange license

a tried and tested option.

Approval times in Estonia are also comparatively faster than that in other jurisdictions, usually taking less than 60 days although it might be extended to 120 days in certain circumstances when more investigation is needed. In comparison, the Japanese Financial Services Agency might take up to 6 months to approve an application.

Additionally, while the

Estonia cryptocurrency exchange license

used to be split into two separate licenses, the

crypto trading license

and the

crypto wallet license

, the two have now been combined into a single license known as the Virtual Currency Service Provider license. This simplifies the application process and offers businesses the convenience and speed needed to jump-start their crypto businesses, be it crypto exchanges or crypto wallet services, without needing to apply for separate licenses. Hence we have another reason as to

why you should use Estonian crypto licenses

.



#3 Comprehensive regulatory system that ensures investor protection and confidence
The

Estonia crypto regulation

has the main aim of instilling trust and protecting investor's interests. Given the association of cryptocurrency with many illicit activities such as terrorist financing and money laundering, safeguards against this have to be put into place to ensure the accountability and conformance of businesses in the cryptocurrency market. The consequent trust built with suppliers and customers would also make them more comfortable and accepting of this new method of payment. By taking active steps to regulate cryptocurrency, Estonia aims to quell any residual distrust amongst service providers and investors, offering the level of certainty in the cryptocurrency market that investors desire.
#4 Access to the wider EU market
Having a licensed Estonia crypto business enables passporting rights. Passporting refers to the ability of a firm to gain access to the wider EU market by providing cross-border services. The firm would only need to register a business within one country in the European Economic Area to access the larger regional market, bypassing the lengthy and costly process of gaining authorization from countries individually.

Furthermore, due to Estonia's strong reputation in the industry, being known as an Estonian cryptocurrency firm carries a sense of credibility and reputation that would make businesses or customers in other countries more willing to conduct transactions with you.
#5 Favourable business environment
Lastly, Estonia has a highly favourable business environment. In 2019, The World Bank ranked Estonia 16

th

in their Ease of Doing Business index. This is due to the e-residency program "e-Estonia", which gives foreigners access to the same services a resident would physically have, allowing you to manage your business remotely from anywhere in the world. In addition, the country also has favorable tax policies which offer low dividend tax rates, as well as tax exemptions for the reinvestment of funds. 

Given that the prerequisite for an

Estonia cryptocurrency exchange license

is a company incorporated in the country, the ease of setting one up should definitely factor into your decision as to

why you should use Estonian crypto licenses

.  
Still wondering why you should use Estonian crypto licenses?
Estonia has truly established itself as one of the leading lights in the cryptocurrency market, and for good reason. It is able to offer investor protection and confidence, while simultaneously being easy to work with. For an ambitious company seeking to expand beyond the Baltic state, EU passporting also offers an attractive avenue.
Tetra Consultants provides our clients with an easy, hassle-free way to obtain a cryptocurrency license in Estonia. Our team of experts will guide you through the full application process so that you can start operating your cryptocurrency business as soon as possible.
Contact us now for a free, non-obligatory consultation and we will revert within 24 hours.