Do you need a license to trade cryptocurrency? Simply put, cryptocurrency licenses serve as official permission to conduct a regulated cryptocurrency business. In Estonia, the National Financial Intelligence Unit (FIU) is the governmental body in charge of issuing an Estonia crypto license. Under the Estonia crypto regulations, a cryptocurrency license is required for activities in the field of crypto services, in accordance with the Law on the Prevention of Money Laundering and the Financing of Terrorism.
The best way to determine whether cryptocurrency trading requires a license is to speak to an expert in the industry. There are multiple factors involved including the source of funds used for trading, types of cryptocurrencies being traded and the flow of funds. Assuming that your intended business activity does require a license, you may wish you consider attaining the cryptocurrency license in Estonia.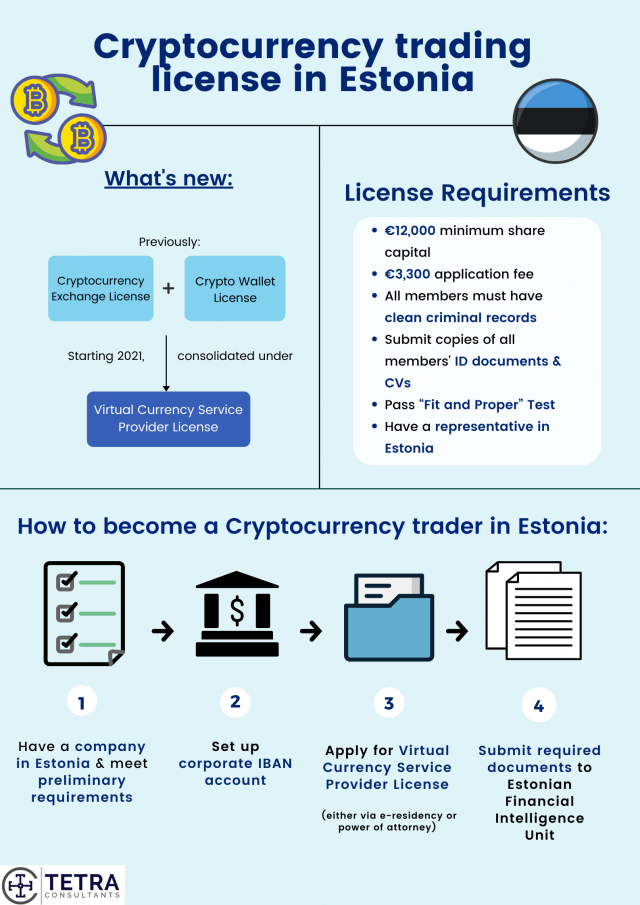 Until 2020, businesses were required to obtain 2 cryptocurrency licenses from the FIU:
Estonia cryptocurrency exchange license

: For exchanging and trading between cryptocurrencies and fiat currencies.

Estonia crypto wallet license

: For operating electronic wallet services with cryptocurrencies. Based on public-key cryptography, cryptocurrency wallets allow users to send and receive cryptocurrencies over the network. There are 2 types of wallets – cold wallets can store digital coins offline, whereas hot wallets include conventional and multi-currency wallets for cryptocurrencies.
However, starting in 2021, the Estonian Financial Intelligence Unit (FIU) will provide a license called the Virtual Currency Service Provider, which has consolidated the previous licenses and merged them into one. This means that only a single cryptocurrency license is now required to legalise cryptocurrency activities, which makes it more convenient to set up a cryptocurrency business in Estonia.
How to start a cryptocurrency business in Estonia?
Firstly, you will need to have a company in Estonia, which requires you to open a local branch of either a foreign company or a company in Estonia. The board of management is required to be located in Estonia too.
You can either:
Purchase an existing shelf company with an already approved

crypto trading license

, or 

Register a new Estonia company and apply for a cryptocurrency license.
It should be noted that the best legal entity for registration when applying for an Estonia cryptocurrency license is the private limited liability company (LLC). Such an entity allows for a quick and simple registration with both the Trade Register and the authorities in charge of issuing the necessary business permits. This can be achieved by meeting all the requirements imposed by the new regulations for fintech licenses.
Secondly, setting up a corporate bank account is required after registering a company in Estonia. Your company needs to open a bank account with IBAN before obtaining a cryptocurrency license. However, it may be difficult for crypto companies to apply for a bank account with traditional Estonian banks due to strict regulations. One possible option is to open an account with one of the European Providers of Cross-Border e-Money Services in Estonia. Additionally, the bank account does not necessarily have to be registered with traditional banks. It is also possible to register a digital bank account with companies such as Transferwise and Revolut.
Thirdly, you need to apply for the Virtual Currency Service Provider license from the Financial Intelligence Unit (FIU). The license allows your company to conduct cryptocurrency exchange businesses, such as trading and exchanging between cryptocurrencies and fiat currencies. Your company will be able to provide crypto/fiat exchange services on par with market leaders like Binance and Coinbase. The license also allows your company to carry out business activities, similar to a cryptocurrency wallet.
How to get a cryptocurrency license in Estonia?
The license application can be done by either:
Submitting electronically using an e-residency card or

Issuing a power of attorney document to authorize a company representative.
The state fee for an application for a crypto license is 3,300 Euro and is paid to the Estonian Ministry of Finance. The issue of the license is examined within 60 business days after application and is valid for a timeless period.
Mandatory requirements for Estonia cryptocurrency license:
A minimum share capital of 12,000 Euro, whereby full payment is mandatory before applying for a cryptocurrency license.m

A license application fee of 3,300 Euro.

Clean criminal records for all members of the company (shareholders, directors etc).

Copies of personal identification documents of all members of the company.

CVs of all involved members.

All board members and Anti Money Laundering (AML) officers must fit the "Fit and Proper" criteria of the Financial Intelligence Unit (FIA) in terms of having adequate knowledge of AML regulation.

The company applying for a license must have a representative in Estonia (one of the Board members is to have Estonian citizenship).
Potential difficulties arising in the process of obtaining a cryptocurrency license in Estonia:
Revocation of licenses from crypto companies who have changed either their owner, director or KYC/AML officer after the identity of these members were already verified. Also subject to review are procedural rules, risk assessment documentation and Anti Money Laundering (AML) documents.

Not having contributed share capital. The authorised capital of a crypto company cannot be dominated by cryptocurrency and can only be paid in cash or by bank transfer. 

Previous criminal records of people involved in the company.

Lack of experience or education of the AML officer.

Physical office space that failed to comply with the regulatory standards.

Inadequate business description plan. The firm ought to have a well-defined plan detailing how it will establish and grow a virtual currency wallet or exchange business. This would then demonstrate the license holder's good reputation and professionalism, as well as their ability to meet the highest standards in the industry.
Looking to start a cryptocurrency business?
All in all, Tetra Consultants' recommendation whenever clients bring up the questions of "Do you need a license to trade cryptocurrency" will be for us to have an in-depth discussion. There are plenty of factors to consider before we can accurately determine the answer to this question. For example, it is different when you are trading cryptocurrency using your own funds as compared to using investments from others. It is also different if you are trading cryptocurrencies such as Bitcoin or Ethereum as compared to other security-backed assets.
The changes to the Estonia cryptocurrency license regulations and requirements in 2021 may be confusing or complicated at first glance. If you are still not clear on whether do you need a license to trade cryptocurrency or other crypto-related business activities, we recommend you to speak to one of our specialists at Tetra Consultants. 
Tetra Consultants provides our clients with an easy, hassle-free way to obtain a cryptocurrency license in Estonia. Our team of experts will explain and guide you through the full application process, ensuring that you successfully meet the new requirements and regulations so that your company can begin your cryptocurrency business activities as soon as possible.
Contact us now for a free, non-obligatory consultation and we will revert within 24 hours on whether do you need a license to trade cryptocurrency.