Labuan Investment Bank License
Labuan Investment Bank License is hassle-free to obtain with Tetra Consultants' assistance. All business entities in Labuan are managed by the Labuan Financial Services Authority (Labuan FSA). The Labuan FSA is responsible for administering the Labuan International Business and Financial Centre (Labuan IBFC) and acts as the central regulatory and enforcement authority in Labuan. Companies that wish to obtain a financial license such as an investment banking license in Labuan will have to file with the Labuan FSA.
Introduction to Labuan Investment Bank License
Currently, there are more than 50 banks in Labuan that provide commercial and investment banking services to both corporate clients and individual consumers. The services provided include trade and export financing, treasury services, financial consulting, project funding, trading and investment etc.
All financial institutions in Labuan are required to procure a financial license before they can start operations in Labuan.
Business owners can choose to set up an investment bank or an Islamic investment bank in Labuan.
Physical presence: There is no restriction to the location as long as the operations office is located within Malaysia.
There is no maximum cap on the number of employees or operations offices that can be opened outside of Labuan.
The Islamic divisions can only conduct Islamic financial business in non-Ringgit currencies and will mainly deal with non-residents.
Amendments to the Labuan Business Activity Tax Act 1990 (LBATA) introduced new economic substance requirements for Labuan business entities. The requirements include having an adequate number of employees in Labuan, and an adequate amount of annual expenditure in Labuan.
When will you require a Labuan Investment Bank License?
Based on the Labuan Financial Services and Securities Act 2010 (LFSSA), you will be required to apply for a Labuan Investment Banking License if you provide the following functions:
Provide credit facilities
Syndication/loan arrangement
Provide consultancy and advisory services relating to corporate and investment matters
Investment on behalf of any person, such as a trust
Initial Public Offerings (IPO)
Dealing in securities (e.g. issuing debt)
Wealth management for High Net Worth Individuals
Portfolio management of sovereign wealth funds, pensions and corporations
Undertake foreign exchange transactions, interest rate swaps, dealings in derivative instruments or derivative financial instruments or any other similar risk management activities such as hedging.
Labuan Islamic investment banking business
Labuan financial business
Mandatory requirements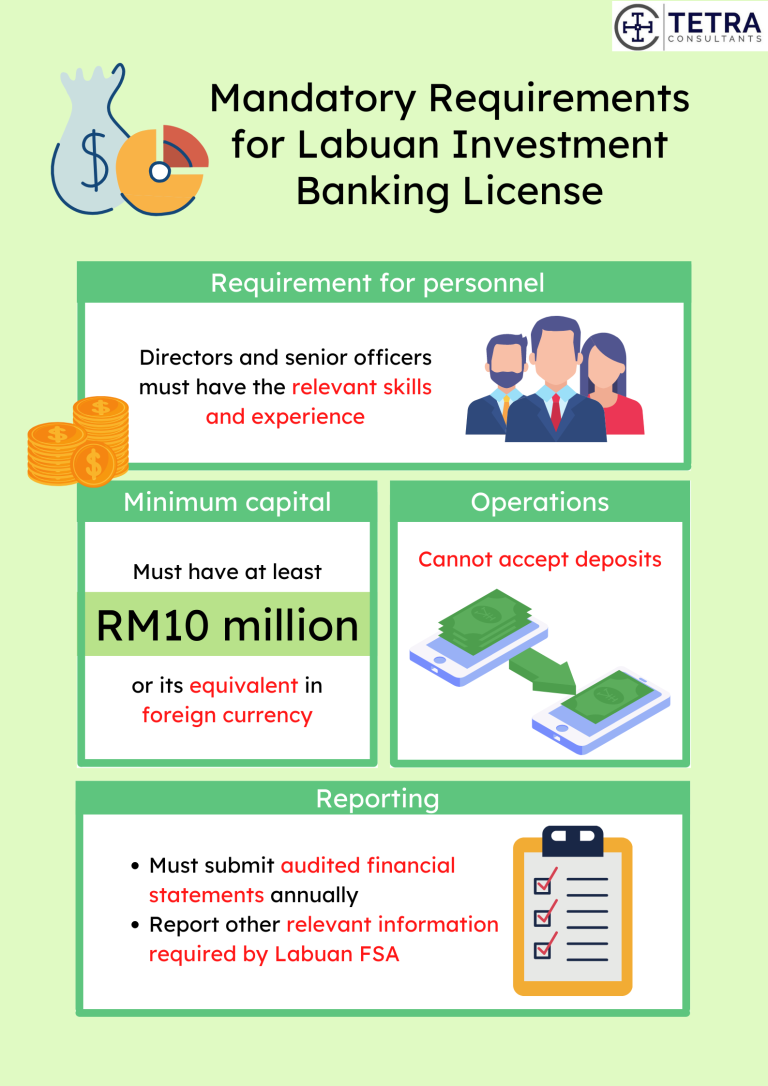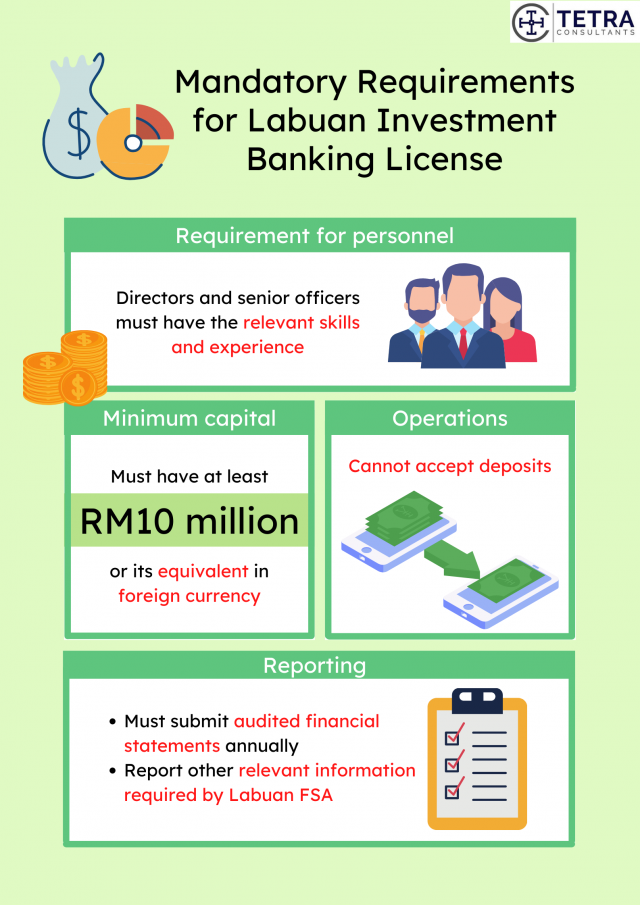 Approval requirements
To apply for the Labuan Investment Banking License, the applicant must be a branch or subsidiary registered under the Labuan Companies Act 1990 and be one of the following:
A group or entity partaking in investment banking activities authorized and registered by the authorities in the nation it was set up in
An authorized monetary institution or provider of such services with a license and managed by a reputable governing authority.
Businesses with the required experience and skills in the finance sector with a minimum of 3 years of evidence of strong conduct and governed by official authorities in the nations they were set up in.
In addition, all the directors and senior officers of the institution must provide proof that that they are equipped the relevant skills and expertise to fulfil their roles in the company.
Minimum capital
The applicant company must have a minimum paid-up capital of RM10 million or its equivalent in foreign currency.
Alternatively, if the applicant company is a branch company, it must maintain a net working fund worth at least RM10 million.
The company is required to inform Labuan FSA if there are any changes to its capital shareholding structure or erosion of paid up capital.
A company that holds a Labuan Investment Banking License must pay an annual licence fee of RM 100,000.
Operations
A company with a Labuan Investment Banking License must maintain a physical presence in Labuan. This means the company should have an operational office in Labuan that handles all business relations and transactions. The office must also hire an adequate number of employees and hold a Board Meeting at least twice a year where a majority of the Board are physically present during the meeting.
A company with a Labuan Investment Banking License can only conduct transactions in foreign currency, unless otherwise stipulated. It is not allowed to deal with ringgit except for the case of defraying administrative and statutory expenses.
Labuan investment banks cannot accept deposits.
Generally, a company with a Labuan Investment Banking License cannot deal with local residents. However, they may be allowed to deal in Malaysian Ringgits and with Malaysian residents subjected to the provisions under the LFSSA and the Exchange Control Act 1953.
Syndications must involve the local Labuan bank institutions, when preparing a syndicated financial program for locals and conducting activities or transactions with locals. The activities must also have obtained official authorization from the Bank Negara Malaysia
A company with a Labuan Investment Banking License needs to have an auditor with official approval.
A company with a Labuan Investment Banking License must notify the FSA if there are any changes to any of its constituent articles.
Reporting
A Labuan Investment Bank must submit two copies of its audited annual balance sheet and profit and loss account to the Labuan FSA annually.
The company must perform an external audit twice a year and an internal audit on AML/CFT matters at least once a year. The auditor must be an approved auditor by Labuan FSA.
The company must also regularly report the relevant statistics and information required with regards to prudential information, general business conduct and volume of business in Labuan. Specifically, the information provided must include the following:
Total amount of credit facilities granted by the company to its customers
Class, category and description of credit facilities provided
Business or industry in which the customers of the company is involved in
In addition, it is mandatory to report the accounts of all US citizens to the US Inland Revenue Service (IRS) in accordance with the Foreign Account Tax Compliance Act (FATCA).
Business ethics
A company with a Labuan Investment Banking License must subscribe to safeguards and standards developed and issued by the relevant authority or organisation. For example, the company must adhere to the standards on implementing an effective management control system, capital adequacy and use of value at risks models, as well as having proper reporting, disclosure and accounting procedures.
The investment bank must also subscribe to the prevailing rules and regulations in respective countries such as conducting its business with due diligence and sound principles, maintaining adequate and proper records and books of accounts and obtaining approval of Labuan FSA when there is a change in the plan.
Documents required
All relevant documents must be certified to be a true copy by the Commissioner of Oath, Notary Public, if applicable.
Completed application form
Passport of all directors
Utility Bill to prove home residence
Latest signed CV and resume
Educational certificates of directors and shareholders
2 referral letters to be issued by a professional such as a lawyer, accountants, company secretary or bank
Current home banking license or any other related license
Audited financial statements for 3 years
Certificate of Incorporation
Register of directors' particulars
Register of shareholders' particulars
Register of company secretary and company auditor
Filing of registered address
Letter of consent from the home regulatory authority
Letter of guarantee from the company's shareholder or an undertaking from the head office
Declaration on the probity of directors and relevant officers
How long to secure Labuan Investment Bank License?
Tetra Consultants will assist you in registering a Labuan company by providing a local company address and local company secretary, if necessary. Typically, this process should take approximately 2 weeks.
Upon registering the company, we will proceed to open a corporate bank account with a reputable local or international bank. You can expect your corporate bank account to be ready in 4 weeks.
Concurrently, our dedicated team of consultants will assist you in registering as an investment bank.
Generally, you can expect your Labuan Investment Banking License application to take minimally 4 months. Each application will be reviewed individually, and they may revert asking for additional supporting documents or information.
How to apply for an Investment Bank License in Labuan?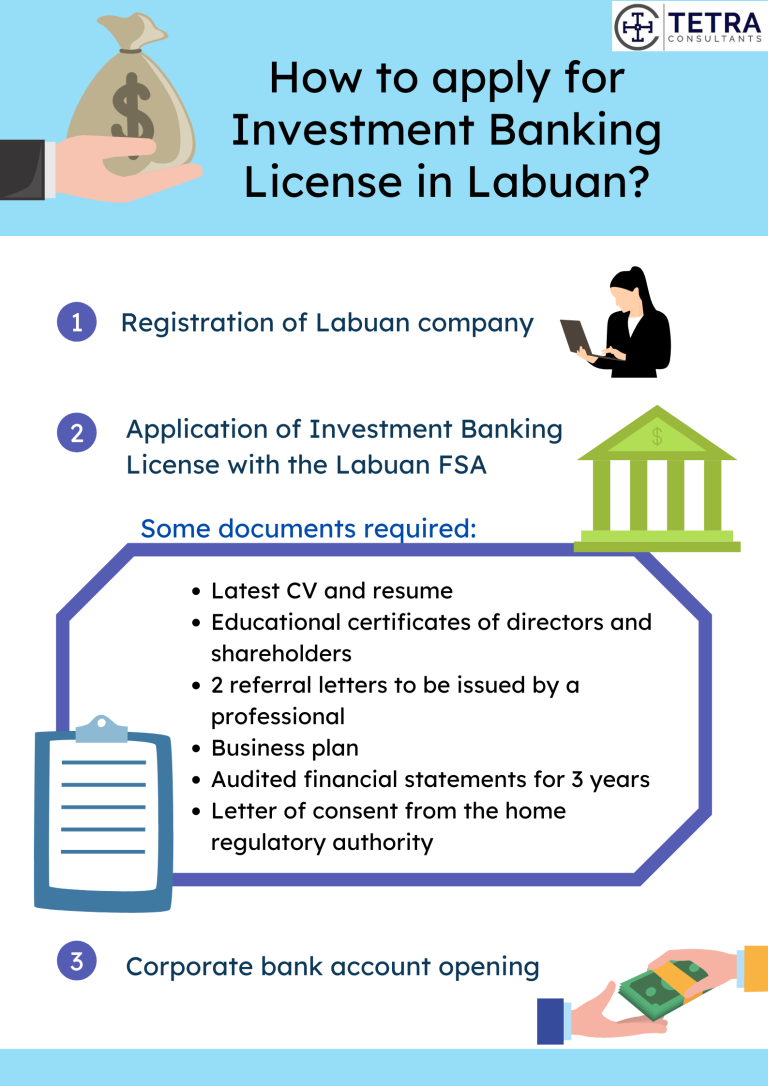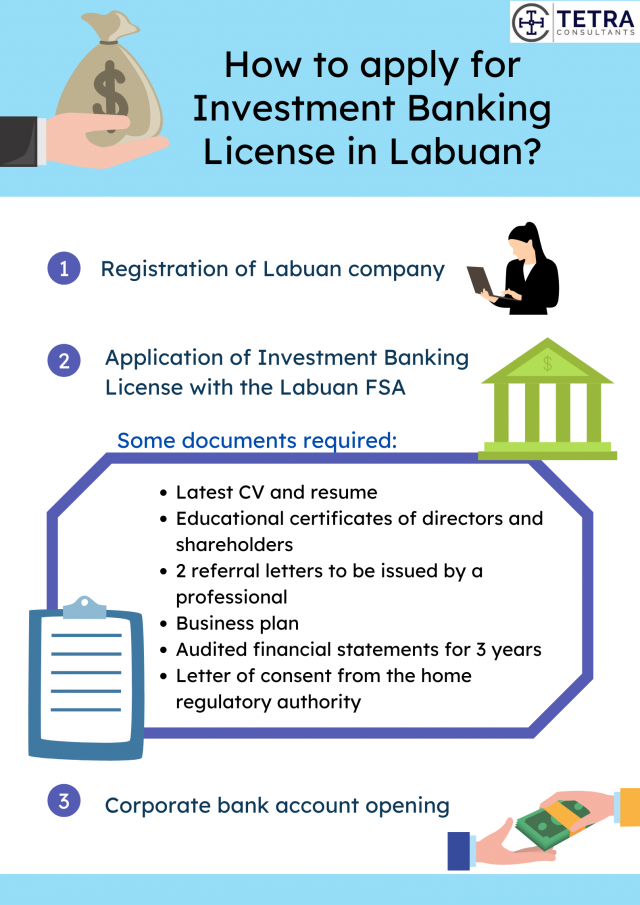 Step 1: Registration of Labuan company
Tetra Consultants will reserve your company name with the Labuan FSA.
After Tetra Consultants registering your company name, we will assist in the preparation of relevant documents required for incorporation such as the Memorandum and Articles of Associationn.
Step 2: Application of Labuan Investment Banking License
Tetra Consultants will register your company as an investment bank with the Labuan FSA by assisting in the preparation and submission of the relevant documents. The documents required include a business plan, referral letters by a professional and audited financial statements.
Step 3: Corporate bank account opening
Tetra Consultants will assist in consolidating the required corporate documents and opening a corporate account with a reputable bank that provides the relevant services such as multi-currency accounts.
Typically, directors and shareholders are not required to travel to Labuan to open the corporate bank account. However, if travel is required, we will have a representative accompany you to the meeting. Alternatively, our team will negotiate with the banks to conduct a conference call instead or to request for a waiver.
Once the bank account has been successfully opened, Tetra Consultants will courier the internet banking token and access codes to your preferred address.
Step 4: Annual accounting and tax obligations
Tetra Consultants' team of Chartered Accountants will ensure that your newly established electronic money institution continues to meet regulatory laws set by the Inland Revenue Board of Malaysia. This includes providing you with monthly bookkeeping, preparation of financial statements and annual tax return filings.
Advantages of a Labuan Investment Bank License
Low tax rates
In Labuan, brokerage and trading activities are taxed at 3% of net profit annually. There is no corporate tax levied on non-trading activities.
In addition, there is no capital tax or withholding tax on dividends and interest in Labuan.
Director fees are exempted from tax in Labuan.
There are no import or export duties on goods and raw materials transported to and from Labuan.
No foreign exchange controls
There are no government-imposed restrictions on the purchase and sale of currencies in the foreign exchange for Labuan investment banks.
As such, they can freely trade in foreign currency.
Access to tax agreements
Malaysia has signed Double Taxation Agreements with 76 countries. Since Labuan is a federal territory of Malaysia, Labuan tax residents will benefit from these tax agreements as it gives them the choice to pay Labuan taxes instead of the tax rate of their home country.
Strategic location
Labuan is strategically located in the middle of Asia Pacific and shares a common time zone with major Asian financial hubs such as Singapore and Hong Kong.
Hence, Labuan is an attractive jurisdiction for companies looking to expand into the Asian market.
Since Malaysia has strong bilateral relationships with other ASEAN member countries, a financial institution that sets up in Malaysia will get to benefit from preferential treatment with regards to goods, investment and labour from ASEAN member countries.
Popular offshore banking jurisdiction
Labuan is well-known as an offshore financial centre that provides international financial and business services.
As the business language of Labuan is English, it allows Labuan companies to provide services more easily to a wide range of clients.
Looking for a license to begin Investment Banking in Labuan?
Contact us to find out more about how to secure Labuan Investment Banking License to conduct investment banking activities. Our team of experts will revert within the next 24 hours.
FAQ
What is investment banking?
It provides services such as credit facilities and consultancy and advisory services relating to corporate and investment matters. Other functions include undertaking foreign exchange transactions, interest rate swaps, dealings in derivative instruments or derivative financial instruments and any other similar risk management activities.
What is Islamic banking?
Islamic banking is defined as a banking business that adheres to Shariah principles. The main principles of Islamic banking include the sharing of profits and losses, as well as the prohibition of interest payment by any parties. Islamic banks tend to profit from profit sharing. This means that instead of paying an interest to the bank, borrowers will share a small portion of their profits with the Islamic bank.
Why is Labuan regarded to have preferential tax treatment?
Under the Labuan Business Activity Tax Act (LBATA), business entities are subjected to a low corporate tax rate of 3% if they conduct trading activities. Business entities that do not conduct trading activities are exempted from corporate tax. However, Labuan companies may be subjected to a high corporate tax rate if they fail to meet the economic substance requirements.
What constitutes trading activity in Labuan?
Banking, insurance, trading, management, licensing and shipping operations are considered trading activities in Labuan. A company that holds investment on its own behalf is not regarded to be conducting trading activity unless it holds the investment on behalf of its clients.
In Labuan, trading activities are taxed at 3% while there are no corporate taxes on non-trading activities.
Is there indirect tax in Labuan?
Labuan is a Free Trade Zone. This means that there are no indirect taxes such as import duties, export duties, sale tax and excise tax levied on goods and services.
Is there stamp duty in Labuan?
All instruments executed by a Labuan business entity with regards to a Labuan business activity conducted will be exempted from stamp duty.
Is there estate tax in Labuan?
No, there is no estate tax or inheritance tax in Malaysia.