Labuan Payment System Operator License
If you are contemplating about applying for Labuan Payment System Operator License, Tetra Consultants advises you to read through this guide to fully understand the requirements and the procedure to be followed.
A Labuan Payment System is primarily intended for cashless transactions. Electronic payments for goods and services are made through traditional payment systems such as debit cards, credit cards, and online internet banking. Fintech and blockchain technology advancements can provide a completely new advanced electronic payment system, also known as a payment gateway, such as the E-Wallet, to the mass market consumer at a cheaper rate.
With the deployment of the Innovative Financial Services (IFS) framework in Labuan, a fundamental aspect of the Labuan Payment System is that it may be used as a stand-alone license or in conjunction with additional licenses such as Money Broking, Fund Manager, Cryptocurrency Exchange, and Credit Token. As a result, while conducting a payment system in Labuan, you may be required to get a separate operating license in order to perform the cryptocurrency exchange and initial coin token offerings (ICO).
Tetra Consultants specializes in assisting our international customers with obtaining Payment System Operator Licenses in Labuan. Our team of professionals will handle your payment system licensing application from start to end, including forming a new Labuan entity, opening a corporate bank account, preparing the necessary legal documents, and obtaining licenses from the Labuan Financial Services Authority.
What is a Payment System Operator License?
A Payment System Operator License is an authorization granted to an entity for the operation of a payment system according to the respective regulations of the respective jurisdiction.
Accordingly, this license enables you to legally offer brokerage services which include the transfer of funds from one bank to another, providing payment instruments and network operation and services with regards to settlement and clearing of payment for the issuer of payment instrument and merchant acquirer.
Why should you apply for a payment system license?
Complete payment flexibility
In today's highly competitive marketplace, being relevant within your client base requires meeting and exceeding customer expectations. Contactless payment is becoming the new standard, and if your business accepts it, you will be ahead of the curve. With only a click of a button, users may send and receive money at any time and from any location.
Reduced operational costs
Modern payment systems are constantly looking for innovative methods to cut expenses. This modern terminal management and integrated payments systems can interface with many payment devices and workstations at the same time. Rather than buying new terminals, merchants can save a great deal of money by sharing the devices among multiple workstations.
Spontaneous and convenient
Contactless payment is currently the quickest method available. You can receive funds instantly, and it is especially beneficial for online businesses and platforms.
How will the additional license be used with the Labuan Payment System Operator License?
To begin with, cryptocurrencies are digital currencies that are traded on a network. When you buy cryptocurrency, you are actually buying the coins. Then you will need to form an exchange account, fund it with the asset's worth, and keep the cryptocurrencies until you are ready to sell them. Digital wallets come very helpful in this situation. Cryptocurrencies are stored, sent, and received using them.
Types of Labuan Payment System Operator License
Labuan Payment System can be a single merchant payment system or a merchant community payment system. It can also be combined with another license for better payment facilitation.
The Single Merchant Payment System enables the merchant to provide payment flexibility in which consumers have more options to make payments for both online and offline products. This helps the company to reduce manpower and the risk of loss or theft as there is no cash in hand.
The Merchant Community Payment System connects consumers to the merchant's associates within a community. This Payment System unites all the merchants in the community by sharing the same system, often using an e-wallet mechanism. This enables the merchants to work together to promote better sales and have a greater database for future products and events.
Who is the regulatory authority of Labuan Payment System Operator License?
The key role of Labuan FSA is to license and regulate the licensed entities operating within Labuan and to ensure all such entities remain in compliance with internal and international best standards adopted by the jurisdiction. This is to safeguard investors' interests as well as to maintain the soundness of the regulatory environment in Labuan.
Laws controlling the payment system in Labuan
The Financial Services Act 2013 (FSA) and the Islamic Financial Services Act 2013 (IFSA) are two major sets of laws that regulate the financial activities in Malaysia, including the ones regarding online payments. The Central Bank in Malaysia issues the needed licenses for e-commerce companies looking to implement a merchant account for online payments.
Benefits of Labuan Payment System Operator license
There is 100% foreign ownership, and Malaysian local partners are not required
Corporate tax of 3% on the trading profit
There is no Withholding Tax on Interest, Management Fee, Royalty Fee, and Technical Fee
No foreign exchange control
There is no Stamp Duty /GST, Import Duty / Sales / Service Tax
There are no Capital Gain Tax and Inheritance Tax
Ability to access more than 70 Malaysia Tax Treaty partners
50% tax abatement for expatriate professionals/managers' employment
100% tax exemption on director's fees for foreign directors
Zero tax on dividends to shareholders
2-year multiple-entry working visa (renewable) to stay in Malaysia – Optional).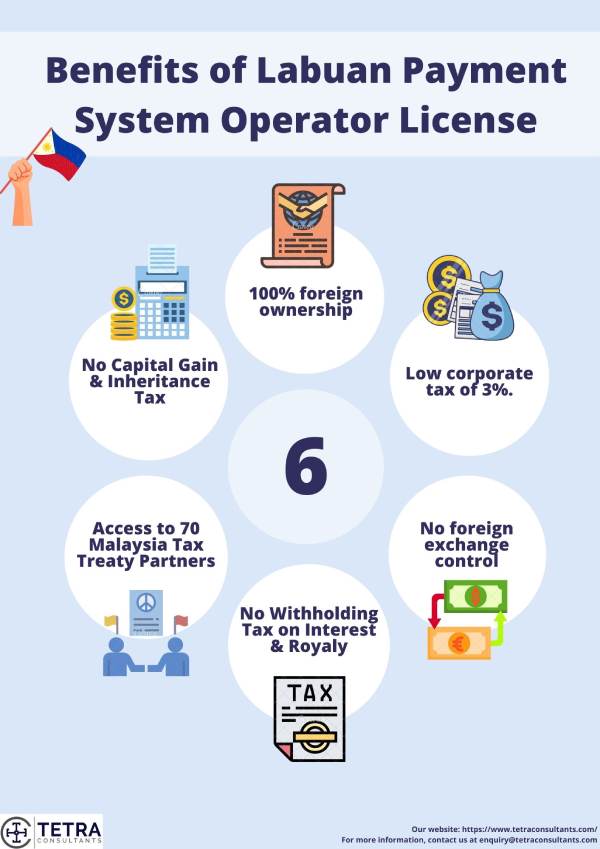 Who can apply for a Labuan payment system operator License?
Individual or institution with payment gateway expertise with a good track record and sufficient years of experience in the industry
Regulated payment gateway or provider of such services from other jurisdictions with approval from home authority with the letter of consent
Any licensed institutions including approved payment gateway under the Financial Services Act 2013 with approval from the Central Bank of Malaysia
Additional eligibility criteria:
Companies with 3 years of good financial track record with the new Payment System model or
Companies with existing Payment System
Proof of Fund: US$100,000
What are the documents required for obtaining a Labuan Payment System Operator License?
A detailed business plan, which entails the following aspects:
Types of services/Products
Territorial scope (indicate percentage) (i.e. Singapore 50%, Indonesia 50% etc).
Risk Management and internal control process
Particular of internal control and compliance officer
Proposed financial year-end and accounting standard
Any other relevant supporting documents/information
Group shareholding structure
For prospective owners, directors, and members of a company:
Malaysia Identity card/Passport (for a non-Malaysian)
Address proof (i.e. most recent utility bill, less than 3 months old)
Recent year's tax return filed in the respective country of domicile
Proof of capital availability through a bank statement of shareholder
For Corporate Body:
Certificate of incorporation
Memorandum and Article of Association
Latest annual return (if any)
Recent three years audited account
Director resolution-Investment into the offshore entity
Director resolution-Corporate Representative
What are the conditions for obtaining a Labuan Payment System Operator License?
Besides the documents of a company running the activities online, the following requirements are mandatory at the time of applying for an e-payment license in Labuan:
the applicant needs to offer information about the payment providers, payment instruments, and merchant account;
the security system for online payments needs to be provided at the time of license application;
the operator of the payment system will have to provide a license in this sense;
all applications must be submitted to the Central Bank of Malaysia.
What is the procedure for obtaining a Labuan Payment System Operator License?
Our team of dedicated consultants has summarized the prevalent steps that take place during a normal engagement of obtaining a Labuan Payment System Operator License. Hence we recommend you to read through the guide to fully understand the process and steps to be taken when engaging Tetra Consultants:
Step 1: Choosing the form of legal entity
Starting with the procedure for obtaining a Payment System Operator License in Labuan, you need to have a legally registered entity in the country. Tetra Consultants will assist you to register a Labuan company within 2 weeks.
Before moving forward with the process our team of dedicated consultants will fully understand your business needs and goals on the basis of which we will suggest the best-suited form of entity to be registered in Labuan. Labuan's International Business Company (IBC) is often the ideal choice amongst foreign investors setting up a business entity in Labuan due to its beneficial tax structure and full-foreign ownership.
Once confirmed with the choice of legal entity to be registered, you will be required to submit KYC documents of all the prospective directors and shareholders of the company for internal due diligence to be conducted by our team.
At this stage, we will also send you a power of attorney to be signed to enable us to take required legal actions on your behalf to register company in Labuan following the process to apply for a Labuan Payment System Operator License.
Step 2: Reservation of name and preparation of the documents required for company registration
Once the checks have been passed, we will proceed to reserve a name for your company with the Labuan FSA. The name should not be offensive or similar to an existing name. Tetra Consultants will do a name check for you to ensure minimal delays in the process.
Tetra Consultants' legal team will consequently start with the drafting of important corporate documents for the registration of the entity including a Memorandum of association, articles of association, and other important documents.
Step 3: Registration of the entity
Thereafter, firms may proceed with incorporation. Firms will need to submit their completed memorandum and articles of association along with the specified Labuan company registration fees. The Directors' Declaration and Consent Letters signifying their willingness to take up appointments will also be needed.
Step 4: Preparation of supporting documents for license application
Once the company is successfully registered, Tetra Consultants will prepare a business plan which describes the company's operations and strategies. Our legal and compliance team will also prepare the required AML/CFT procedures and internal policies such as technology risk management, corporate governance, regulatory reporting, and others.
Our team of consultants is well equipped with the regulatory requirements of Labuan and the necessary checks undertaken by Labuan Financial Services Authority (LFSA) for an entity applying for a Labuan payment system operator license, Labuan Money Broking License as well as Labuan Fund management License, hence we will draft the necessary policies and accordingly.
Step 5: Meeting economic substance requirements
In order to meet the additional economic substance requirements, Tetra Consultants will assist you to rent a local Labuan office located in the Central Business District. This office has to be operational and fully furnished as regulated by Labuan FSA. Tetra Consultants' legal team will prepare a lease agreement as per local Labuan real estate regulations, to be signed by all parties. Thereafter, you will pay monthly rent directly to the landlord.
In addition, Tetra Consultants will recruit at least 2 quality employees for your established company. Our services include conducting initial screening and interviews as well as preparing employment contracts as per Labuan employment regulations. You are only required to attend the final interview to pick the preferred candidate. Thereafter, monthly salaries are to be paid directly to your employees.
Tetra Consultants will assist the directors, principal officer,s and controllers to secure 'fit and proper' status. During this process, these individuals will be required to provide enhanced KYC documents including no-criminal records.
Step 6: Submission of license application
With everything in place, Tetra Consultants will submit a Payment System Operator License application to Labuan FSA. After which, Labuan FSA may revert to asking for an interview with the directors, principal officer, and controllers.
Thereafter, Labuan FSA will issue an in-principal approval together with a list of requirements to be met within a stipulated deadline. Some of these requirements include putting disclaimers on websites, injecting paid-up capital into a corporate bank account or providing additional KYC documents.
Step 7: Corporate bank account opening
On average, this process takes around 4 weeks and you may be required to travel to Labuan for a face-to-face meeting. Once the account is opened, you will be required to deposit the initial paid-up capital into the corporate bank account.
Step 8: License approval
Once the above is completed, Labuan FSA will issue you the full Labuan Payment System Operator License.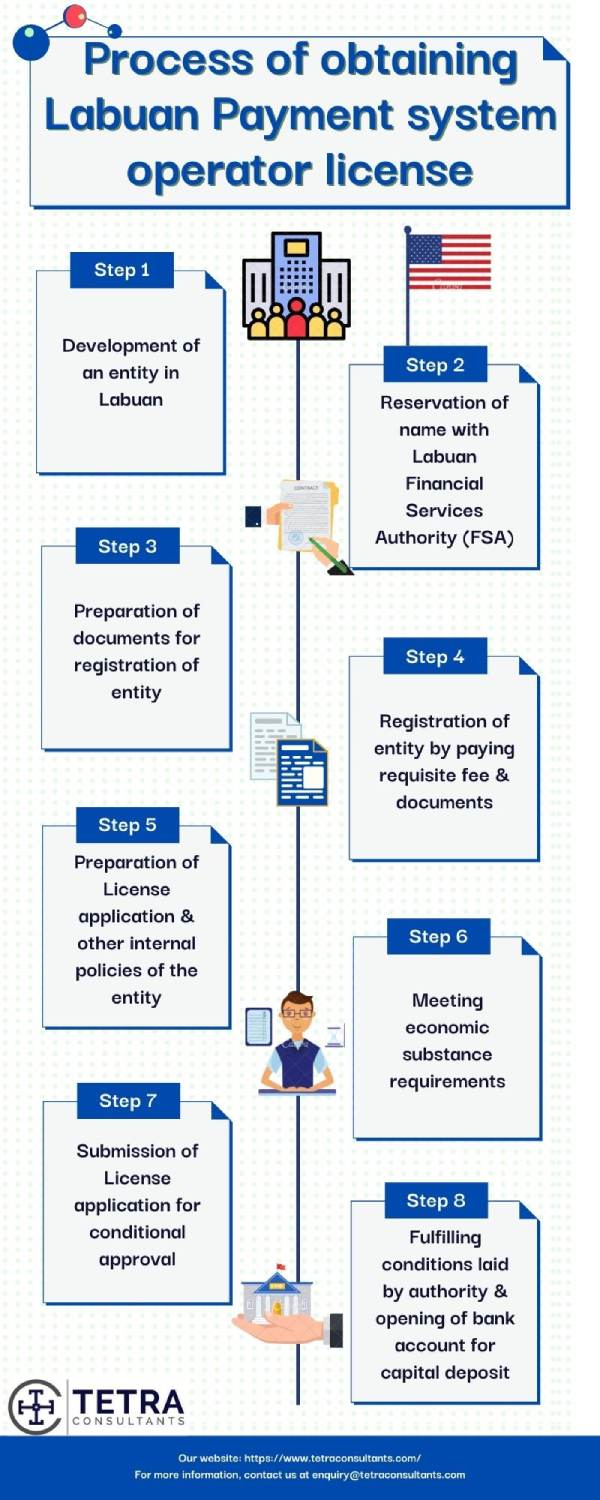 How much time does it take to obtain a Labuan Payment System Operator License?
Prior to the start of the engagement, Tetra Consultants will send you a project plan with the timelines stipulated for company registration, preparation of documents as well as license application. This is to ensure that all parties are clear on the upcoming project.
How much does it cost to obtain a Labuan Payment System Operator License?
The total engagement fee depends on the services you need from Tetra Consultants. We provide you with multiple services, from assisting you through the Labuan company incorporation process to obtaining the Labuan Payment System Operator License. This total fee that will be charged will be inclusive of the company registration fee, license fee, and any additional cost that may arise.
We will discuss with you the total engagement fee charged in detail before we begin the registration process so that you have a better understanding of what you are paying for.
Our Services
Tetra Consultants is a full-fledged consulting firm with a specialized team of professionals that handles licensing applications. We provide extensive "one-stop" solutions for the formation of your Labuan Payment System Operator Entity, including pre-assessment, planning, structuring, and advisory services. We are optimistic that our unique services will fulfill your business needs and ensure operational continuity.
Tetra Consultants' team of dedicated professionals is proficient in providing assistance from entity formation for obtaining Labuan Payment System Operator License to also taking care of tax and accounting obligations for the smooth running of your business.
Find out more!
Contact us to find out how to get a Labuan Payment System Operator License, our team will reply within 24 hours.
FAQs
What are the regulatory requirements for registering a Labuan company?
For a typical Labuan company to be registered should adhere to the following requirements at least a director of any nationality, at least a shareholder of any nationality, a local registered address, and a resident corporate secretary.
How to get a Payment System Operator License in Labuan?
To obtain a payment system operator license in Labuan you need to first check for the eligibility criteria and then move forward with the setting up of a Labuan entity. Once the entity is registered then you can apply for the Payment system operator license in Labuan.
Tetra Consultants assist our international clients from the very beginning of setting up the Labuan business entity to the filing of the application form for the Labuan Payment System Operator License. Our team is well equipped with the laws and regulatory requirements of the region hence we can assist you with the best services.
What are the key benefits of getting a Labuan Payment System Operator License?
The key benefit of acquiring a Labuan Payment system Operator License is that it allows 100% foreign ownership along with this it is to consider the advantage of having to pay tax at the lowest rate of 3% with the exemptions available.
Is there any disclosure requirement for entities obtaining Labuan Payment System Operator License?
Yes, at the time of applying for the Labuan Payment System Operator License, an applicant has to disclose information about the payment providers, payment instruments, and merchant account and the security system for online payments needs to be provided at the time of license application.
Will I require a local shareholder?
No, you can expect to be granted full foreign ownership.