Labuan Money Broking License
Tetra Consultants is proficient in assisting our international clients to secure the Labuan money broking license. Our service package includes registering Labuan company, opening corporate bank account opening, meeting economic substance requirements and securing the Labuan money broking license.
Introduction
Labuan money broking license is governed by Labuan Financial Services and Securities Act 2010, Labuan Companies Act 1990 and Labuan Business Activity Tax Act 1990. The license allows you to arrange transactions between buyers and sellers in the money or foreign exchange markets as an intermediary in consideration for brokerage fees paid or to be paid.  However, this does not include the buying and selling of Ringgit or foreign currencies as a principal in such markets.
Mandatory requirements for Labuan money broking license
Eligibility
According to Labuan International Business and Financial Centre (IBFC), you are required to meet the below requirements before being approved to operate as a money broker in Labuan.
You are required to have good track records and prior experience in the field of money broking. Labuan FSA expects you to have at least three years of experience in the industry.
You are already operating as a regulated money broker or any provider of such services in other jurisdictions with good track records. In this case, Labuan FSA will require you to provide supporting evidence of your money broking licenses in other jurisdictions.
Any licensed institutions including already-approved money brokers under the Malaysia Financial Services Act 2013.
Requirements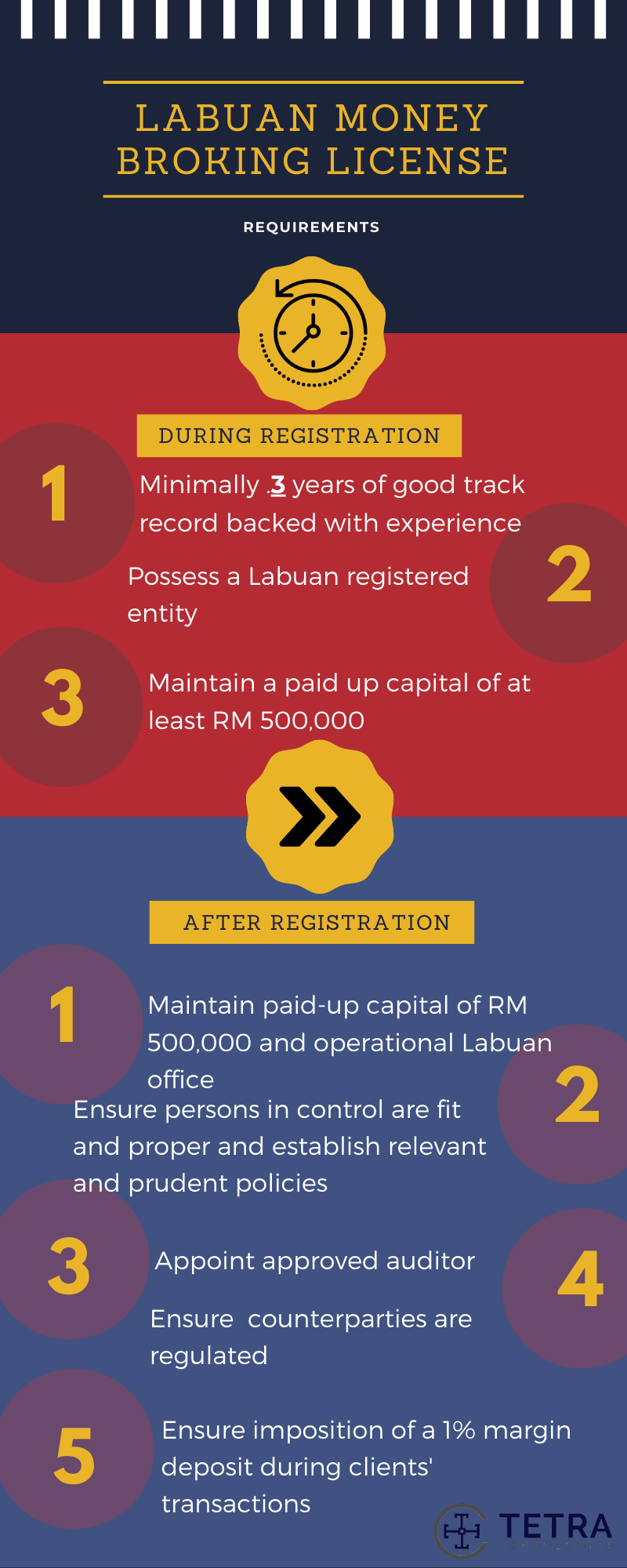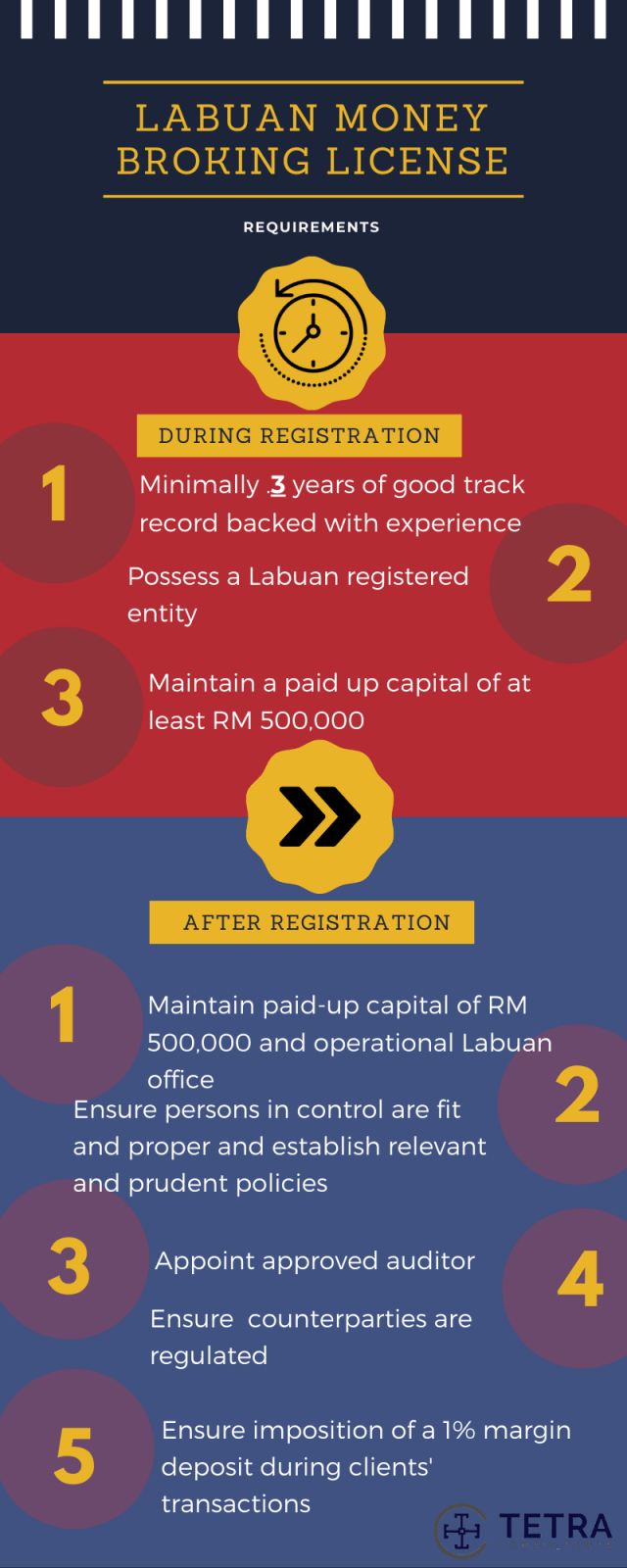 Labuan IBFC has stated that they will consider the below criteria while assessing the issuance of the Labuan money broking license.
Paid-up capital unimpaired by losses of at least RM500,000 or its equivalent in any foreign currency throughout its operations. Labuan FSA has the right to increase the required paid-up capital depending on the business' nature, scale, complexity and diversity of their business activities.
Labuan operational office (furnished) where business activities are carried out. Registered or virtual office is not allowed.
The shareholder(s), director(s), principal officer and representative, including any other relevant person, are required to meet the requirements of the Guidelines on Fit and Proper Person Requirements issued by Labuan FSA.
Only allowed to work with partners that are being regulated with an internationally recognised regulatory authority.
Maximum leverage limit of 100:1 on your clients' trading transactions that would translate to a minimum of 1% margin deposit to enable the opening of a trade position.
Establish adequate internal policies and procedures for your operations, compliances, internal controls, corporate governance and technology risk management and cyber hygiene. These have to be regularly reviewed to ensure that they remain appropriate, relevant and prudent.
If your company is planning to undertake Islamic money broking services, you are required to appoint a qualified person onto your internal Shariah Advisory Board. The company is required to follow the Directive on Islamic Financial Businesses.
How to apply?
Tetra Consultants will assist you to register a Labuan company within 2 weeks. Once the company is registered, Tetra Consultants will send you the Certificate of Incorporation, Memorandum & Articles of Association and other corporate documents.
Once the company is successfully registered, Tetra Consultants will prepare a business plan which describes company's operations and strategies. Our legal and compliance team will also prepare the required AML/CFT procedures and internal policies such as technology risk management, corporate governance, regulatory reporting and others. On average, this process takes around 3 weeks to complete.
In order to meet the additional economic substance requirements, Tetra Consultants will assist you to rent a local Labuan office located in the Central Business District. This office has to be operational and fully furnished as regulated by Labuan FSA. Tetra Consultants legal team will prepare a lease agreement as per local Labuan real estate regulations, to be signed by all parties. Thereafter, you will pay monthly rent directly to the landlord.
In addition, Tetra Consultants will recruit at least 2 quality employees for your established company. Our services include conducting initial screening and interviews as well as preparing employment contracts as per Labuan employment regulations. You are only required to attend the final interview to pick the preferred candidate. Thereafter, monthly salaries are to be paid directly to your employees.
Do note that the company is required to record an annual operating expenditure of at least RM100,000. As such, the rental and salaries paid are included in this expenditure.
Tetra Consultants will assist the directors, principal officer and controllers to secure 'fit and proper' status. During this process, these individuals will be required to provide enhanced KYC documents including no-criminal records.
With everything in place, Tetra Consultants will submit a money broking license application to Labuan FSA. After which, Labuan FSA may revert asking for an interview with the directors, principal officer and controllers. Thereafter, Labuan FSA will issue an in-principal approval together with a list of requirements to be met within a stipulated deadline. Some of these requirements include putting disclaimers on websites, injecting paid-up capital into a corporate bank account or providing additional KYC documents.
Tetra Consultants will proceed to open a local corporate bank account with a reputable Malaysian or international bank. Some of the banks we work with include RHB, Maybank, Standard Chartered and OCBC. On average, this process takes around 4 weeks and you may be required to travel to Labuan for a face-to-face meeting. Once the account is opened, you will be required to deposit the initial paid-up capital into the corporate bank account.
Once above is completed, Labuan FSA will issue you the full Labuan money broking license. In total, Tetra Consultants expects to register your Labuan company, open Labuan corporate bank account and secure Labuan money broking license within 4 to 5 months.
Tax Considerations
Establishing a money broker business in Labuan comes with not just security but also tax benefits. Generally, foreign investors can look forward to 0 withholding tax on payments of dividends and interest. Otherwise, you can also expect no import duty or sales tax, no capital gains tax and also no foreign exchange controls. Further, Labuan-incorporated companies can also benefit from double taxation avoidance agreements signed with over 70 jurisdictions.
A Labuan entity performing money broking activities will only be imposed a tax rate of 3% for all audited net profits. This tax rate is significantly lower than many other countries, making Labuan an ideal jurisdiction to set up your money broking business.
Our services
If you are looking to operate a forex brokerage firm, one of the first things you will need to think about is attaining a

forex license

. While licensing operations necessitate that forex enterprises adhere to strict norms of behavior, obtaining a license will benefit your company's operational and legal standing in the marketplace. 
Tetra Consultants assist forex dealers with their regulatory and forex licensing needs and provide continued support and assistance to forex companies concerning all aspects of entity formation, preparation and submission of license application, and ensuring the smooth operation of your business. 
Tetra Consultants is a professional consulting firm that provides extensive support concerning all the aspects of entity incorporation as well as attaining any type of

offshore financial license

that you may need assistance with. 
Find out more!
Contact us to find out more about how to get a Labuan Money Broking License. Our team of experts will revert within the next 24 hours.
FAQ
What are some key advantages of acquiring a Labuan Money Broking License?
Unlike other jurisdictions, you are entitled to 100% foreign ownership without a need for you to partner with a Malaysian local. Additionally, establishing a money broker business in Labuan also comes with various tax benefits.
Will I require a local shareholder?
No, you can expect to be granted full foreign ownership.
Can my Labuan money brokerage business deal with residents?
Yes, all Labuan entities are permitted to conduct transactions with residents of Malaysia – this includes citizens, permanent residents as well as others who have established a place of business and is operating in Malaysia.
Will there be any additional rules involved for Labuan money brokers intending to undertake Islamic money broking business?
Yes, you will be further required to appoint a qualified person to your internal Shariah advisory board. The person will be mainly in-charged of ensuring that management and operation of the Islamic money broking business complies with Shariah principles.
What are the disclosure requirements a Labuan money broker should make to its clients?
Generally, a list of authorised brokers should be published on a publicly accessible medium. Relevant risk disclosures, spreads, fees charged due to the client's trading transactions should be disclosed minimally. Brokers should also provide clients a monthly review on the trading performance in the form of a self-prepared manual report or per generated from the money broking platform.
Should someone be stationed at my Labuan office?
Yes, either the Principal Officer or any other senior office authorised for planning, directing or controlling the business should be present to communicate officially with the Labuan FSA.
What are some businesses that can be exempted from registering a license?
For Labuan incorporated entities with the following business nature: (1) investing own funds and (2) sharing profits to investors, they can be exempted from a license.
Contact us to find out more about how to set up a Labuan money broking company. Our team of experts will revert within the next 24 hours.