Seychelles Securities Dealer License
Seychelles Securities Dealer License, also known as Seychelles Broker's License or Seychelles Brokerage license, is needed for businesses intending to provide services dealing in securities in Seychelles.
Tetra Consultants assists our clients to obtain Seychelles Securities Dealer License. With our lean-and-mean mentality, you can rely on our team of experts to provide you with a seamless experience throughout the whole process to obtain Seychelles Securities Dealer Licensing. Our ultimate goal is for your Seychelles securities dealer business to be operationally ready within the stipulated time frame.
Our corporate services package includes everything you will require to set up a Seychelles Securities brokerage company:
Registration of the Foundation with SeychellesRegistrar of Companies
Local secretary and registered office address
Local management company and registered agent
Nominee founder services
Annual accounting services
What is a Seychelles Securities Dealer License?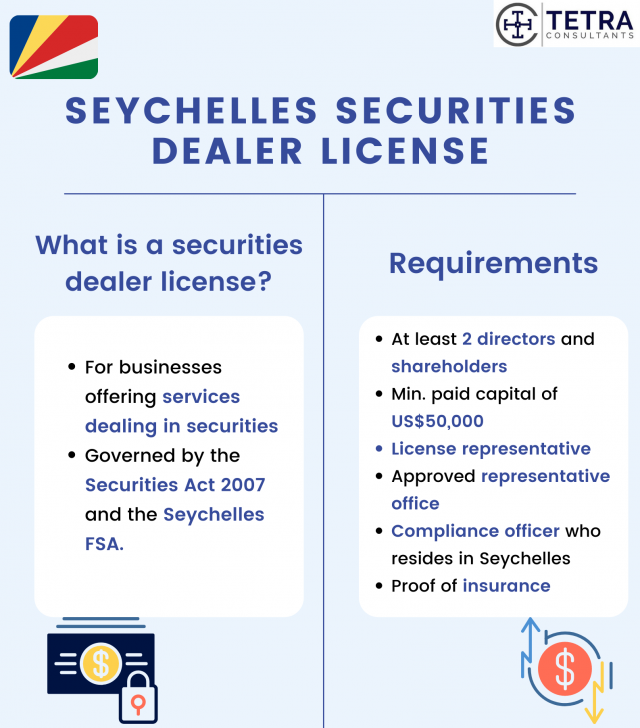 If your company intends to offer services dealing in securities, you will need to obtain a Securities Dealer License from the Seychelles Financial Services Authority (FSA) to begin doing so. This is required for both agents who are dealing in securities on behalf of clients, and principals who are dealing in securities in their own account.
The Securities Act 2007 governs and lays out the guidelines for the provision of securities dealer services in Seychelles.
Why obtain a Seychelles Securities Dealer License?
There are a variety of benefits to obtaining a securities dealer license. They are as follows:
Gain credibility and clients' trust
With an official license, your company will have greater credibility. Customers will be more willing to engage your securities dealers services if they are licensed, which will boost your company's reputation and profits.
Access to a wide range of services
The license will grant your business the authority and ability to offer key services. These include the ability to provide trading services in securities, forex and contract for differences (CFD), performing CTA activities, trading in commodities, offering investment advice as well as managing portfolios.
Offering a wider range of services will allow your company to appeal to a larger demographic of clients, increasing your company's competitiveness and attracting more customers.
Low minimum paid-up capital
The minimum paid-up sum mandated to secure a securities broker license in Seychelles is relatively low compared to in other jurisdictions, at US$50,000. This will allow companies to save costs and invest their funds into other expenses.
Why set up a Seychelles securities dealer business?
Seychelles is an attractive jurisdiction for traders and brokers businesses to set up in due to a number of benefits as shown below.
Economic and social stability
The economic growth rate in Seychelles was stable before the COVID-19 pandemic, at 4.2% per annum. This plummeted to 13.5% in 2020 due to the loss of tourism caused by the COVID-19 pandemic. However, the economy is recovering and projected to return to steady economic growth rates by 2022.
In addition, the nation's official language is English and the adult literacy rate is at 95.87%, which makes communication easier for companies looking to do business or incorporate in Seychelles.
Privacy and asset protection
Due to the privacy policy in Seychelles' corporate laws, information about each company's directors and shareholders is not publicly available. This is advantageous for those who prefer privacy and anonymity.
Speed of incorporation process
A Seychelles company can be registered within 1 week and has no minimum paid-up fund requirement. Due to the fast registration process, you do not have to purchase a Seychelles shelf company and will instead be able to have an operational business expeditiously.
Business-friendly laws
Seychelles' corporate laws are conducive to doing business. For instance, the corporate tax rate is at a competitive tax rate of 15%.
In addition, Seychelles' financial regulations are also flexible and advantageous to financial service businesses.
Access to African market
For firms looking to enter the African market and access its large consumer base, Seychelles is one of the best options to choose as it is one of the best African jurisdictions to do business in.
Requirements for Seychelles Securities Dealer License
A minimum of 2 qualified and experienced directors, with no nationality or residence requirements
A minimum of 2 shareholders
A minimum paid capital of US$50,000
Qualified securities dealer representative possessing an authorized license
Approved representative office
Compliance officer (MLRO) who resides in Seychelles
Proof of insurance for the license that is suitable for the company's scope and nature
How to secure Seychelles Securities Dealer License?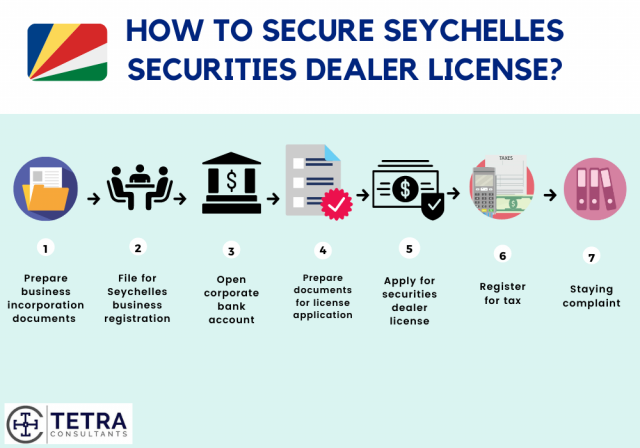 To apply for a Seychelles Securities Dealer License, you must first have an incorporated Seychelles business compliant with the regulations of the Seychelles Companies Ordinance law of 1972. Tetra Consultants will assist you to register company in Seychelles through a hassle-free process.
Step 1: Preparing documents needed to register a Seychelles business
Before incorporation, our experienced team will first understand your unique business needs and goals and recommend the entity best suited for your company.
You will need to submit the following documents for registration:
Information about the company – Certificate of Incorporation, Article of Association, and more.
Business name reservation proof.
Passport and residential proof of the shareholders, directors, and Ultimate beneficial owners.
Reference from a bank showing good standing of the individual or company, if needed.
Step 2: Filing for registration
After receiving the mandated documents, Tetra Consultants will proceed to file for registration with the Seychelles Registrar of Companies. Our team will set up your company without the need for our international clients to travel.
Once the registration process is completed, we will courier the necessary documents including the Certificate of Incorporation, Memorandum and Articles of Association and other articles of incorporation to your preferred address.
Step 3: Preparing documents necessary for the license application
After the company's successful incorporation, you will need to prepare the mandatory documents for the application of the Securities Dealer License with the FSA.
Passports of key applicants such as the directors, shareholders and license representative
Proof of residence address of main applicants
Certificate of Incorporation, Memorandum and Articles of Association of the business
Certificate of good standing
Identification information and address of directors, shareholders and other owners
List and particulars of members, directors and beneficial owners
Other documents will also be needed for the FSA to conduct KYC checks on each director, shareholder, license representative and other important applicants. The KYC information needed include the following:
Educational and professional qualifications of the key applicants
2 approved copies of recent passport photographs
Detailed copies of latest resumes
Bank references or a Credit Rating Agency report
Tax clearance certificate
Proof of membership in professional organizations
Personal and corporate affiliations
Current financial and corporate commitments
Tetra Consultants will prepare a comprehensive business plan for your intended business activity. The business plan will consist of important aspects such as corporate structure, transaction flow, volume of transaction, third-party vendors, customer base and other considerations.
Step 4: Recruitment of local qualified directors and MLRO
Simultaneously, Tetra Consultants will work on recruiting 2 local qualified directors in Seychelles. They will be employed under your company and will be able to represent your company in front of regulators and financial institutions. It is essential to find qualified candidates with adequate background in finance, payments or banking.
You also need to recruit a local compliance officer or MLRO (Money-Laundering Reporting Officer). This candidate should have past experiences working in the compliance role to ensure the company remains compliant with the regulations.
Once the candidates are shortlisted, Tetra Consultants will prepare employment contracts as per local Seychelles employment laws.
Step 5: Applying for Seychelles Securities Dealer License with the FSA
Tetra Consultants will then proceed to submit the application for the license to the FSA, together with the relevant documents needed.
The FSA will then begin the process of KYC checks to ensure compliance with the Seychelles regulations.
Step 6: Registering for tax
After successfully obtaining the license, Tetra Consultants will register your business with the Seychelles Revenue Commission to obtain a tax identification number.
Step 7: Corporate bank account opening
Once the license is attained, Tetra Consultants will work on opening international corporate bank accounts for your newly established corporate home.
On average, Tetra Consultants will open at least 2 corporate accounts for you. This includes an operational account for business expenses such as paying salaries, rentals, and suppliers. The other account will be the segregated account where it is used to store customer funds and deposits.
Step 8: Staying compliant with government regulations
Tetra Consultants will then continue to ensure that your business stays compliant with local corporate policies.
Tetra Consultants will continue to provide you with the necessary accounting and tax services to ensure that you can continue to legally conduct business while staying compliant with regulatory obligations. Our team of dedicated consultants will timely prepare your firm's financial statements, corporate tax returns and manage bookkeeping on your behalf.
Companies registered in Seychelles must make an annual renewal payment. This payment is for the maintenance of the license, registered agent, and registered office address.
Our team of dedicated consultants will continue to clarify any doubts you may have with regard to your company's obligations.
How long to secure Seychelles Securities Dealer License?
A typical application to the FSA for a license will take around 5 months to process in total.
During the period, you will not need to travel to Seychelles personally. Tetra Consultants will assist your company in couriering the necessary incorporation and license application documents to the relevant authorities, as well as delivering the articles of incorporation and license approval details to your preferred address.
Need a Seychelles Securities Dealer License?
FAQ
What is a Seychelles license?
In Seychelles, a securities dealer license is needed for a company to offer services dealing with securities, whether as a principal or as an agent.
The securities dealer license is also known as a Seychelles forex license or Seychelles brokerage license.
Is forex trading legal in Seychelles?
Yes, forex trading activities and businesses that comply with the laws and regulations of the Seychelles FSA are legal in Seychelles.
Tetra Consultants can assist businesses to apply for a securities dealer license to begin forex trading in Seychelles.
How do I verify a forex broker license?
Valid licenses in Seychelles are issued by the Financial Services Authority (FSA). A company's license can hence be verified through the Seychelles FSA website, or by sending a letter or email enquiry to the FSA.
Do you need a license to trade forex?
No, you are not legally mandated to possess a license to trade forex in Seychelles.
However, if you wish to offer brokerage services for forex trading, you will have to apply for a securities dealer license for your Seychelles company before you can do so.
How much does it cost to become a forex broker?
To become a forex broker in Seychelles, you must first set up a Seychelles company and apply for a securities dealer license afterwards.
The minimum paid-up fund requirement for the securities dealer license in Seychelles is US$50,000.
In addition, Tetra Consultants also recommends setting aside at least US$25,000 to fund your overhead expenditures as well as initial deposit for corporate bank account opening.
As for Tetra Consultants' engagement fees, this depends on the exact services required from Tetra Consultants. Our fees are inclusive of government fees and all fees will be clearly stated in our engagement letter prior to the start of the engagement. Tetra Consultants believes in transparency with our valued clients and there are no hidden fees.