Crypto License in Bulgaria 
Tetra Consultants assists international clients with the process of obtaining a crypto license in Bulgaria. Our aim is to ensure the smooth setup of your cryptocurrency business in Bulgaria while you can channel your energy onto other important aspects of your business. 
In the ever-evolving landscape of financial transactions, a profound shift has taken place with the meteoric rise of cryptocurrency businesses. These digital currencies, including the likes of Bitcoin and Ethereum, have captivated the global market with their decentralized nature and immense potential for financial innovation. Within this context, Bulgaria has emerged as a compelling destination for aspiring cryptocurrency entrepreneurs, thanks to its forward-thinking stance on technology and business. Recognizing the need to regulate and facilitate the operations of these enterprises, the Bulgarian government has embarked on a strategic journey, implementing licensing frameworks that ensure transparency, security, and adherence to legal requirements. The licensing process for cryptocurrency businesses in Bulgaria has thus become a pivotal pillar, reflecting the nation's commitment to embracing digital currencies, protecting stakeholders, and fostering economic prosperity.
By implementing

加密货币执照

requirements, Bulgaria aims to enhance consumer protection, prevent money laundering, and mitigate potential risks associated with the cryptocurrency industry. Furthermore, the licensing process enables the government to monitor and ensure compliance with anti-money laundering and counter-terrorism financing measures, thereby bolstering the country's financial integrity and reputation on the global stage. As a result, Bulgaria stands poised to harness the benefits of cryptocurrency businesses while cultivating an environment of trust, stability, and sustainable growth in the digital economy.
Advantages of obtaining a Bulgaria Crypto License 
An entity applying for a crypto license in Bulgaria can take advantage of the following: 
Progressive Regulatory Environment:

Bulgaria has established a progressive regulatory environment for the cryptocurrency industry. By obtaining a crypto license, businesses can operate with confidence, knowing they have met the country's specific requirements and regulations. This regulatory clarity provides stability and legal certainty for cryptocurrency ventures in Bulgaria.
EU Passporting Rights:

As an EU member state, Bulgaria offers passporting rights, allowing businesses with a crypto license obtained in Bulgaria to provide their services across the European Economic Area (EEA). This enables companies to expand their reach and tap into the vast European market, benefiting from the harmonized regulations within the EU.
Supportive Government Initiatives:

The Bulgarian government has shown a proactive approach in supporting technology-based industries, including the cryptocurrency sector. Through various initiatives, such as the establishment of innovation hubs, financial incentives, and collaboration with industry stakeholders, Bulgaria strives to create a supportive ecosystem for crypto businesses to thrive.
Competitive Operating Costs:

Bulgaria offers a cost-effective business environment, with lower operating costs compared to many other EU countries. This includes competitive labor costs, office rentals, and general business expenses. The favorable cost structure allows crypto businesses to optimize their operations and allocate resources efficiently.
Favorable Taxation Policies:

Bulgaria's tax policies are advantageous for crypto businesses. The country has one of the lowest corporate tax rates in the EU, offering a competitive tax environment. Additionally, certain activities related to cryptocurrencies may be exempt from value-added tax (VAT), providing additional tax benefits for crypto businesses.
Skilled Workforce:

Bulgaria boasts a highly skilled workforce, particularly in the fields of technology, software development, and finance. The availability of qualified professionals familiar with blockchain technology and cryptocurrencies can be a valuable asset for crypto businesses looking to build and expand their teams.
Enhanced Investor Confidence:

Acquiring a crypto license in Bulgaria enhances investor confidence. The regulatory oversight and compliance demonstrate that the business operates within a secure and transparent framework. This can attract local and international investors who seek compliant and trustworthy cryptocurrency ventures.
Laws governing a crypto license in Bulgaria
The laws governing a crypto license in Bulgaria primarily revolve around financial and regulatory frameworks that aim to ensure the legality, security, and integrity of cryptocurrency operations. Here are some key laws and regulations governing crypto licenses in Bulgaria:
The Bulgarian Law on Measures against Money Laundering (AML Law):

The AML Law sets out the requirements for preventing money laundering and terrorist financing activities. It mandates that cryptocurrency businesses obtain a crypto license and implement robust AML and Know Your Customer (KYC) procedures to mitigate the risks associated with financial crimes.
The Bulgarian Law on Payment Services and Electronic Money:

This law regulates payment services, including those involving cryptocurrencies. It establishes the framework for payment service providers and defines the scope of permissible activities, such as crypto payment services.
The Bulgarian Law on Currency Control:

The Law on Currency Control governs the regulation and control of currency transactions, including those involving cryptocurrencies. It outlines the reporting obligations and restrictions related to foreign currency transactions, which may apply to certain crypto activities.
European Union Regulations:

As an EU member state, Bulgaria is subject to various EU regulations that impact the cryptocurrency industry. These include the EU's Anti-Money Laundering Directive (AMLD), which sets out common AML requirements across member states. 
In accordance with the Fifth Anti-Money Laundering Directive (5AMLD), the Bulgarian legislation introduced the concept of "virtual currencies" and defines them as digital representations of value that are not issued or guaranteed by a central bank or public body. These virtual currencies are not necessarily linked to legal tender and do not possess legal status as currency. However, they are accepted by individuals or entities as a medium of exchange and can be electronically transferred, stored, and traded. A crypto wallet provider that offers custodial services is defined as a natural person, legal entity, or other legal entity that provides services to protect private cryptographic keys on behalf of customers for the ownership, storage, and transfer of virtual currencies. In compliance with 5AMLD, crypto businesses are obligated to undertake the following activities:
Implement customer due diligence and know-your-customer procedures, which can be performed at simplified, advanced, or complex levels. Complex due diligence is mandatory for transactions exceeding BGN 30,000 (approx. €15,000), regardless of whether the transaction is conducted in a single operation or multiple transactions.
Maintain records of transactions by collecting and retaining relevant information and documentation related to customer identification, transactions, and associated activities.
Conduct risk assessments for money laundering, terrorist financing, and other illicit financial activities by implementing standardized internal procedures.
Notify the Financial Intelligence Directorate of the State Agency for National Security in cases where payments exceed BGN 30,000 (approx. €15,000).
Report information about suspicious customers, transactions, and other activities to the Financial Intelligence Directorate of the State Agency for National Security in accordance with internal procedures.
Activities allowed under a Bulgaria crypto license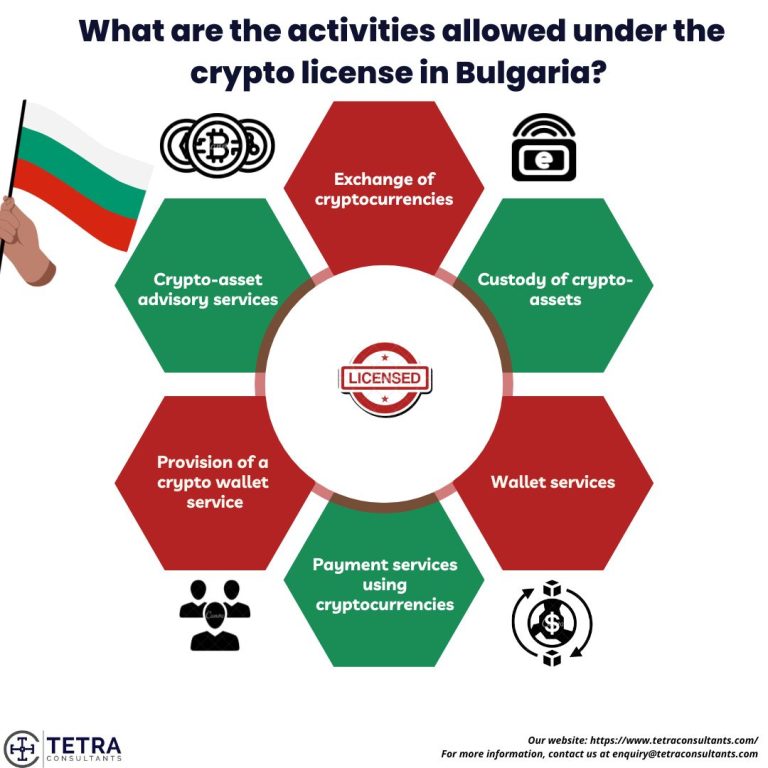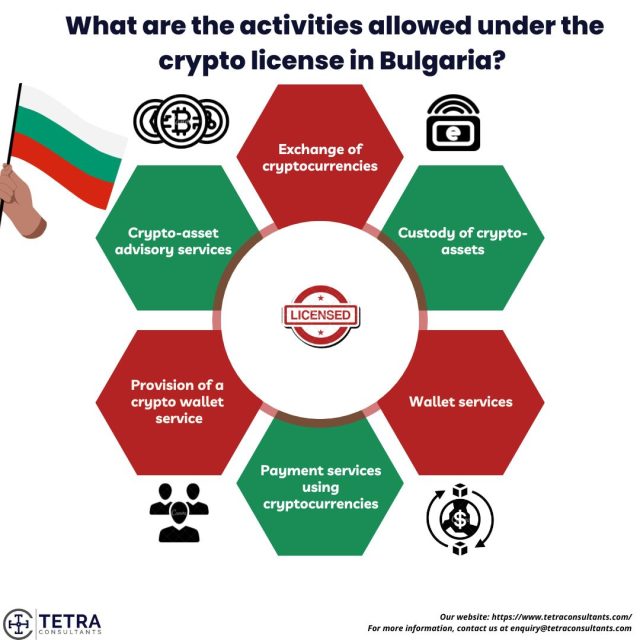 Under a crypto license in Bulgaria, various cryptocurrency-related activities are allowed. These activities may vary depending on the specific type of license obtained. Here are some common activities permitted under a crypto license in Bulgaria:
Exchange of cryptocurrencies:

A crypto license enables businesses to operate cryptocurrency exchange platforms, allowing users to buy, sell, and trade digital currencies against fiat currencies or other cryptocurrencies.
Custody of crypto-assets:

With a crypto license, companies can provide secure storage and custody services for clients' crypto-assets. This involves safeguarding private keys, wallets, and digital assets on behalf of customers.
Wallet services:

Businesses holding a crypto license can offer crypto-wallet services, allowing users to store and manage their digital assets securely. This includes providing wallet software, facilitating transactions, and ensuring the integrity and security of the stored cryptocurrencies.
Payment services using cryptocurrencies:

A crypto license allows companies to offer payment services involving cryptocurrencies. This includes accepting cryptocurrencies as a form of payment for goods and services, facilitating crypto-to-fiat currency conversions, and enabling crypto-based remittances.
Crypto-asset advisory services:

Some crypto licenses may permit businesses to provide consulting and advisory services related to cryptocurrencies, including market analysis, investment guidance, and regulatory compliance. 
Bulgaria FSC – Regulatory body 
The regulatory and oversight authority responsible for the application and supervision of crypto licenses in Bulgaria is the

Financial Supervision Commission (FSC).

The FSC is an independent government agency tasked with regulating and supervising financial activities within the country. It operates under the Bulgarian Law on Financial Supervision.
The FSC plays a crucial role in the application process for crypto licenses in Bulgaria. It sets the guidelines and requirements for obtaining a crypto license, ensuring compliance with applicable laws and regulations. The FSC assesses the eligibility of applicants, reviews their business plans, and evaluates their compliance measures, financial stability, and suitability to operate in the cryptocurrency sector.
Once a crypto license is granted, the FSC continues to oversee and supervise the licensed entities. It conducts regular inspections, monitors compliance with ongoing regulatory requirements, and takes appropriate actions to address any non-compliance or misconduct.
The FSC's role is essential in maintaining the integrity, stability, and transparency of the cryptocurrency industry in Bulgaria. It acts as a regulatory safeguard, protecting the interests of investors, consumers, and the overall financial system. Working closely with the FSC and adhering to its regulations and guidelines is crucial for businesses seeking a crypto license in Bulgaria.
Requirements for obtaining a crypto license in Bulgaria 
The corporate structure required for obtaining a crypto license in Bulgaria generally follows the standard legal framework for establishing a company in the country. The most common corporate structure for crypto businesses is a limited liability company (LLC) or a joint-stock company (JSC). Here are the key elements of the corporate structure:
Shareholders: The company must have at least one shareholder, who can be an individual or a legal entity. Shareholders are the owners of the company and hold shares representing their ownership interests.
Directors/Management: The company should have one local director who is responsible for the day-to-day management and operations of the business.
Share Capital: The company must have a minimum share capital as required by the Bulgarian Commercial Act of the relevant corporate structure. The share capital represents the financial resources of the company and provides a level of financial security. The minimum capital required when setting up a Bulgarian limited liability Company for applying for a crypto license in Bulgaria is BGN 2 (€1). 
Registered Office: The company must have a registered office address in Bulgaria. This is the official address where the company's documents and correspondence are received and maintained. Virtual offices are also allowed. 
Company secretary: An entity applying for a crypto license in Bulgaria is required to appoint a company secretary to maintain the correspondence and be a representative of the entity in the country. 
Process of obtaining a crypto license in Bulgaria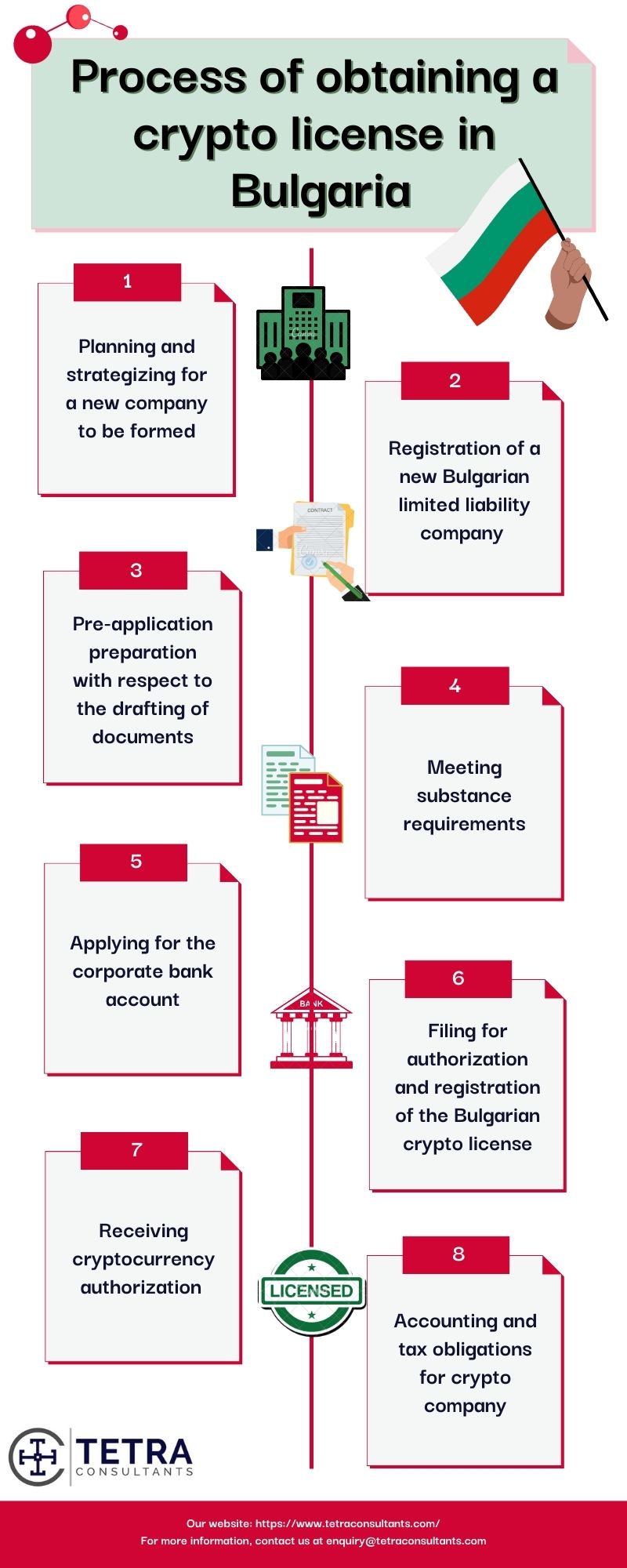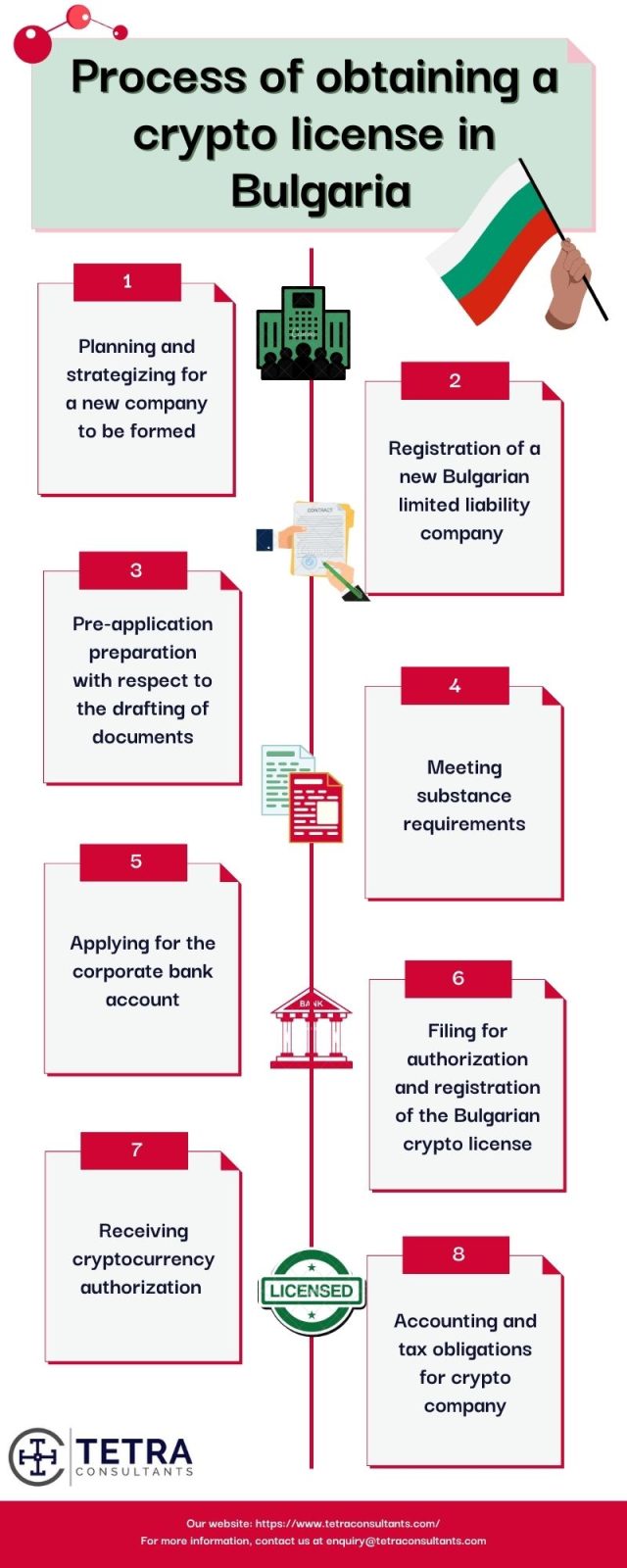 Tetra Consultants' team of licensing experts will thoroughly guide you on how to apply for a crypto license in Bulgaria, what these requirements are, and what they entail. In the section below, our team has outlined the most prevalent steps that take place during the course of applying for a crypto license in Bulgaria. 
第 1 步:为要成立的新公司进行规划和制定战略
Tetra Consultants assist international clients with the process to register company in Bulgaria. To officially begin with the process our team will ensure the collection of KYC documents of the prospective shareholders, directors and beneficial owners of the company to be incorporated to ensure the reliability of the project. 
一旦确认,我们的团队将获得客户签署的授权书,以代表客户采取的行动。 
Once the power of attorney is signed, our team will require you to provide the three alternative company names to be reserved with the

Bulgarian Trade Register. 
Step 2: Registration of a new Bulgarian company 
Tetra Consultants' team of experts will analyze the long-term business needs and goals of the company. Based on the thorough description, our team will guide you on the most suitable type of business structure to be incorporated in Bulgaria. 
A Limited Liability Company (OOD) is the most preferred form of entity structure in the Czech Republic for the cryptocurrency business. This entity structure gives the advantage of incorporation with minimal regulatory requirements like low capital requirement (BGN 2), a director and shareholder, a registered legal address, and a company secretary. 
Tetra Consultants will assist with the registration of a limited liability company with the

Bulgaria Official Commercial Register

by a registered legal address and a company secretary who will represent the entity in Bulgaria. 
Tetra Consultants' legal team will assist with the preparation of incorporation documents like Memorandum and Articles of Association and notarization of the same with the public notary. If required our team will also assist with the translation of such documents to the Bulgarian local language by a certified translator. Once the entity is registered, our team will send the Certificate of Incorporation and other authorized documents to the address given by the client. 
We expect to complete the process of company registration within

2 周

. 
第 3 步:关于起草文件的申请前准备
特加商务咨询将同时着手准备必要的政策和其他授权文件,包括 AML/CFT 政策、保险政策等。 
Our team of consultants will also assist you in preparing a comprehensive business plan as well as planning a compliance program. The business plan and compliance program will be drafted in writing for your further review and in accordance with the Act and associated regulations imposed by the regulatory authorities in Bulgaria and also following the regulations and guidelines for digital money under the EU directives. 
特加商务咨询团队进一步精通书面合规政策的实施以维护牌照。我们的团队将审查已采用的合规政策,并就如何更有效地更新和改进合规计划向您提出建议。我们还将协助您起草合规计划的有效性审查。 
第 4 步:满足物质要求 
As the local regulator requires you to ensure fulfilling the economic substance requirements like a local registered address and a local director in Bulgaria. Tetra Consultants will assist you to meet them. Our team will assist with providing nominee director services and, if required, recruiting local qualified employees to join the team.
特加商务咨询的人力资源团队将对包括合规官在内的关键员工进行候选人入围和初步面试。之后,您可以缩小潜在客户的最终名单,以选择最适合加入团队的人。一旦候选人被选中,特加商务咨询将协助准备具有商定条款的雇佣合同。
第5步:企业银行开户 
A cryptocurrency business in Bulgaria must set up the necessary infrastructure in order to operate properly and offer unhindered services related to the cryptocurrency exchange. This includes a corporate bank account opening with a Bulgarian bank to ensure the deposit of minimum capital required to apply for a crypto license in Bulgaria. 
特加商务咨询将协助将

企业银行开户

with a reputable local bank in Bulgaria that provides relevant services as mentioned above.
Typically, directors and shareholders are not required to travel to Bulgaria to open a corporate bank account. However, if travel is required, we will have a representative accompany you to the bank meeting. Alternatively, our team will negotiate with the banks to conduct a conference call instead or request a waiver. 
Once the bank account has been successfully opened, Tetra Consultants will courier the Internet banking token and access codes to your preferred address. Further, our team will provide the instruction to maintain the minimum capital required to apply for a crypto license in Bulgaria. 
第六步:加密公司授权注册备案 
With all the documents in place, our team will proceed with the online submission of all the documents prepared for authorization of the cryptocurrency company through the online filing of the application introduced by FSC for cryptocurrency license application. Once submitted the relevant trade licensing authority process the same with the regulatory authorities, NRA and FSC. 
在此阶段,我们的团队将确保通过与监管机构的谈判,并提交对所提出的询问的答复,申请可能需要附上额外的信息。 
第 7 步:会计和纳税义务
Tetra Consultants' team of Chartered Accountants will ensure that your newly established cryptocurrency company continues to meet regulatory laws set by the

Bulgaria National Revenue Agency.

This includes providing you with monthly bookkeeping, preparation of financial statements, and annual tax return filings.
Documents required to obtain a crypto license in Bulgaria 
The specific documents required for the application of a crypto license in Bulgaria may vary based on the type of license and the activities of the crypto business. However, generally, the following documents are typically required during the application process:
Application Form: A completed application form provided by the Financial Supervision Commission (FSC) is usually required. This form collects information about the applicant, the proposed cryptocurrency activities, and the corporate structure.
Business Plan: A detailed business plan outlining the nature of the cryptocurrency business, its objectives, market analysis, financial projections, risk assessment, and compliance measures is typically required. The business plan should demonstrate a thorough understanding of the industry and the viability of the proposed operations.
Company Documents: Documents related to the establishment of the company, such as the Articles of Association, Certificate of Incorporation, Memorandum of Association, and shareholder details, may be required. These documents provide information about the legal structure and ownership of the company.
Identification Documents: Personal identification documents, such as passports or national ID cards, are typically required for the individuals involved in the management and ownership of the crypto business. This includes directors, shareholders, and beneficial owners.
Proof of Address: Documents that confirm the residential addresses of key individuals associated with the crypto business, such as utility bills or bank statements, may be required.
Compliance Policies and Procedures: Crypto businesses are required to establish and document robust anti-money laundering (AML) and know-your-customer (KYC) policies and procedures. These policies outline the steps taken to mitigate the risks of money laundering, terrorist financing, and other financial crimes within the crypto business.
Financial Statements: Depending on the stage of the business, financial statements, such as audited financial reports, bank statements, and financial projections, may be required to demonstrate the financial stability and capability of the crypto business.
Unique identification code (Unique Identification Code – UIC) in the commercial register.
Information on the opened payment account: account number, name of the payment service provider where the account is opened (one or several accounts can be indicated).
Website or mobile application address for virtual currency exchange or digital wallet services.
Description of the activity the applicant intends to perform.
List of countries in which the applicant intends to offer its services.
Information on whether the applicant is a cross-border company or part of a cross-border entity.
Readymade Bulgaria Crypto Authorized Company 
In contrast to incorporating a new Bulgarian company, we also offer the provision of ready-made Bulgaria crypto authorized companies as an alternative solution. Rather than going through the entire process of company formation, a ready-made company offers a streamlined and time-saving approach. With our ready-made companies, you can acquire an established entity that is already authorized for cryptocurrency activities in Bulgaria. These companies have already completed the initial incorporation and registration process, allowing you to fast-track your entry into the cryptocurrency market. By choosing a ready-made company, you can avoid the complexities and delays associated with starting from scratch.
Our team conducts thorough due diligence on each ready-made company to ensure its legal compliance and financial stability. We verify that the company has obtained the necessary licenses and authorizations for cryptocurrency-related activities in Bulgaria. This provides you with peace of mind and ensures that you are acquiring a reliable and credible business foundation. We understand the unique requirements of cryptocurrency businesses and ensure that our ready-made companies align with the specific regulations and standards governing the industry. This allows you to commence your operations promptly and confidently, without the need to navigate the entire incorporation process.
Opting for a ready-made Bulgaria crypto authorized company can save you valuable time and resources. Instead of waiting for the completion of the company formation process, you can acquire a pre-existing entity that is already authorized and ready to engage in cryptocurrency activities. This enables you to focus on growing your business and seizing opportunities in the rapidly evolving cryptocurrency market. Additionally, our team provides ongoing support and maintenance services, ensuring that your acquired company remains compliant with legal and regulatory requirements. By choosing a ready-made company, you can expedite your entry into the Bulgarian cryptocurrency sector and gain a competitive edge in the industry.
Tax implication of obtaining a crypto license in Bulgaria
The tax implications for a cryptocurrency company in Bulgaria can vary depending on the specific activities and transactions carried out by the company. Here are some key points to consider:
Corporate Income Tax (CIT):

Cryptocurrency-related activities may be subject to corporate income tax in Bulgaria. The standard corporate income tax rate is 10%. However, profits derived from the sale of financial assets held for a period of less than one month may be subject to a higher tax rate of 15%.
Value Added Tax (VAT):

In Bulgaria, cryptocurrency transactions are generally treated as services or intangible goods for VAT purposes. The sale or exchange of cryptocurrencies is generally exempt from VAT. However, if the company provides services related to cryptocurrency mining, wallet operations, or exchanges, VAT may be applicable.
Withholding Tax:

If the company makes payments to non-resident individuals or entities, such as for royalties, dividends, or interest, withholding tax may apply. The standard withholding tax rate in Bulgaria is 10%. However, lower rates or exemptions may apply if a tax treaty exists between Bulgaria and the recipient's country of residence.
Personal Income Tax (PIT):

Employees or individuals receiving income in the form of cryptocurrency may be subject to personal income tax. The personal income tax rates in Bulgaria range from 10% to 29%, depending on the individual's income level.
Transfer Pricing:

If the cryptocurrency company engages in related-party transactions, such as buying or selling cryptocurrencies to related entities, transfer pricing rules may apply. These rules require transactions between related parties to be conducted at arm's length and may necessitate documentation to support the transfer pricing methodology used.
It is important to note that the tax regulations surrounding cryptocurrency are evolving, and additional guidance or amendments to existing laws may be issued in the future. To ensure compliance with Bulgarian tax laws, it is advisable to consult our team of qualified tax professionals who can provide specific advice tailored to your company's circumstances and activities.
How much time does it take to obtain a crypto license in Bulgaria?
特加商务咨询的顾问团队确保在 6 周内为捷克公司注册并开设公司银行账户。但是,牌照申请批准所需的时间完全取决于当局的审查。 
As a general rule, NRA along with FSC reviews the application within

2 to 3 months.

If the applicant meets all the requirements and the submitted documents are correct, the entity is granted a license. If there were any inaccuracies, the regulatory body may request clarification of any issues. In this regard, it is necessary to describe in detail all the business operations to be carried out by the entity. Our team experts recommend that special attention should be paid to the business plan.
在开始参与之前,特加商务咨询将向您发送一份项目计划,其中规定了公司注册、文件准备和牌照申请的预计时间表。这是为了确保各方都清楚即将开展的项目。 
How much does it cost to obtain a crypto license in Bulgaria?
Tetra Consultants will provide you with multiple services ranging from assisting you through the incorporation process to obtaining the crypto License in Bulgaria. The total fee that will be charged is inclusive of the company registration fee, license fee, and any additional cost that may arise.
在开始注册过程之前,我们将与您详细讨论总参与费,以便您更好地了解您所支付的费用。特加商务咨询力求在任何参与开始之前对参与费用保持透明。所有这些条款和条件将在我们的预约信中明确说明。 
Looking to apply for a crypto license in Bulgaria?
Tetra Consultants specialize in providing comprehensive solutions for cryptocurrency businesses seeking to obtain a crypto license in Bulgaria and other ancillary services. With our deep expertise in the regulatory landscape and extensive knowledge of the licensing process, we are your trusted partner in navigating the complexities of the Bulgarian market. Our dedicated team of professionals is committed to assisting you at every stage, from initial consultations to the successful acquisition of your crypto license in Bulgaria. 
We understand the unique challenges faced by entrepreneurs in the cryptocurrency industry and strive to simplify the process by ensuring compliance with the stringent requirements set by the Bulgarian authorities. In addition to license acquisition, we offer a suite of ancillary services, including

企业银行开户

,

提名董事服务

, provision of company secretary and registered office as well as ongoing

regulatory compliance consulting services

. With our guidance and support, you can confidently navigate the regulatory framework, streamline your operations, and focus on your core business activities. Trust Tetra Consultants to be your reliable partner in establishing and growing your compliant and successful cryptocurrency venture in Bulgaria.
特加商务咨询的授权专家团队擅长协助金融服务机构申请

离岸金融牌照

根据长期业务需求和目标实现各种 
了解更多
现在联系我们

to find out more about how to get a crypto License in Bulgaria. Our team of experts will revert within the next 24 hours.
常见问题
What is a crypto license, and why do I need it in Bulgaria?
A crypto license is a legal authorization granted by the Financial Supervision Commission (FSC) in Bulgaria, allowing individuals or companies to engage in cryptocurrency-related activities. It is necessary to operate legally and compliantly in the crypto industry, ensuring trust and transparency in your operations.
What types of crypto licenses are available in Bulgaria?
Bulgaria offers several types of crypto licenses, including cryptocurrency exchange licenses, crypto wallet provider licenses, and cryptocurrency payment service provider licenses. The specific type of license you need depends on the nature of your crypto business activities.
How can I apply for a crypto license in Bulgaria?
To apply for a crypto license, you need to prepare a comprehensive application package, including your business plan, proof of eligibility, AML/KYC procedures, capital requirements, security measures, and compliance mechanisms. It is advisable to seek assistance from legal experts or corporate service providers experienced in crypto licensing to ensure a smooth application process.
What are the regulatory requirements for obtaining a crypto license?
The regulatory requirements for obtaining a crypto license in Bulgaria include fulfilling eligibility criteria, implementing robust AML/KYC procedures, meeting capital requirements, maintaining security measures, and establishing compliance and internal control mechanisms. Additionally, adherence to tax regulations and reporting obligations is crucial.
How long does it take to obtain a crypto license in Bulgaria?
The timeline for obtaining a crypto license can vary depending on factors such as the completeness of your application, the complexity of your business model, and the review process by the FSC. On average, it may take several months to obtain a crypto license, so it is important to start the application process well in advance.
Are there ongoing obligations after obtaining a crypto license?
Yes, holding a crypto license in Bulgaria comes with ongoing obligations. These may include regular reporting to the FSC, maintaining compliance with AML/KYC regulations, conducting audits, submitting financial statements, and keeping up with any regulatory updates or changes.
Can I operate internationally with a crypto license from Bulgaria?
Yes, a crypto license obtained in Bulgaria allows you to operate internationally, provided you comply with the regulations of the jurisdictions in which you offer your services. It is crucial to understand and adhere to the laws and regulations of each country you operate in to ensure compliance and avoid any legal issues.