Ultimate guide to setting up cryptocurrency company in Singapore
Tetra Consultants assists our international clients to set up cryptocurrency company in Singapore. Our team ensures that your Singapore cryptocurrency company is compliant with all local regulations and can legally conduct business.
Unlike other countries where there is a specific cryptocurrency license, there is no cryptocurrency license in Singapore. However on 28 January 2020, Monetary Authority of Singapore (MAS) implemented a new regulation that all cryptocurrency businesses are required to secure the new Payment Institution License. This new license is reputable and regulated and it will take the place of a Singapore cryptocurrency license.
This enhanced regulatory framework under the Singapore Payment Services Act aims to promote higher confidence in the FinTech industry while protecting the customers' safety.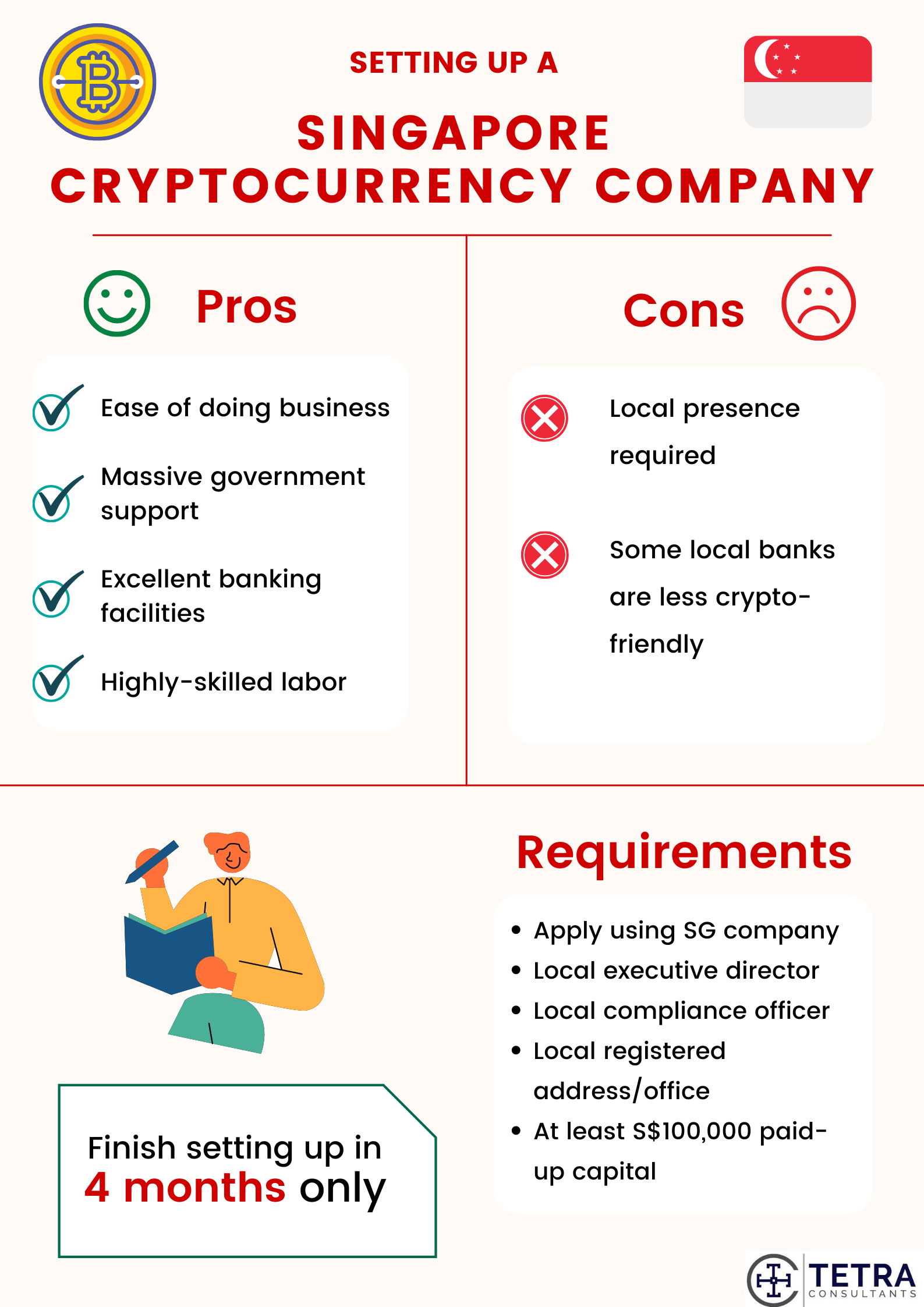 Common types of cryptocurrency companies
There are two main types of cryptocurrency companies all over the world.
Cryptocurrency exchange
The most common example will be to set up a cryptocurrency exchange. As the name mentions, cryptocurrency exchanges are online digital platforms where you can trade digital assets, notably cryptocurrencies. Depending on the market value, traders will buy and sell digital assets for either another type of digital assets or for fiat currencies.
Most cryptocurrency exchanges only provide cryptocurrency to cryptocurrency services. However, there is a small number of cryptocurrency exchanges which allow traders to trade fiat currencies such as USD or EUR for different types of digital assets.
Cryptocurrency wallet
The second most common type of cryptocurrency is a cryptocurrency wallet. From the term, many may assume that cryptocurrency wallet is a digital wallet which stores an individual's cryptocurrencies.
To be more accurate, a cryptocurrency wallet is a software program that keeps an individual's private and public keys. Simply put, a private key allows an individual to transfer digital assets out of the wallet while a public key enables an individual to receive digital assets.
The software program will interact with multiple other blockchains to allow the individual to send and receive digital assets to other users, while monitoring the balance. In order to use cryptocurrency for payments or to store cryptocurrency for later use, you will be required to have a cryptocurrency wallet.
Why choose Singapore to set up cryptocurrency company?
There are multiple benefits to set up a cryptocurrency in Singapore.
Ease of doing business
Singapore is well known for its ease of doing business for international businessmen. According to "Doing Business Survey 2020", Singapore is ranked the 2nd best country to start a business.
Unlike countries where setting up a simple business will take up to a few weeks, a Singapore company can be registered within 2 business days. The whole business set up process is straightforward and consists of minimal requirements.
In addition, Tetra Consultants will register the Singapore company without the need for our international clients to travel. See this webpage on the steps required to register a Singapore company.
Regulated by Monetary Authority of Singapore
Instead of a Singapore cryptocurrency licenses, companies are required to apply for the Payment Institution License. This license is introduced by the Monetary Authority of Singapore (MAS) and requires all related companies to meet various requirements in order to conduct cryptocurrency businesses using a Singapore entity.
This license requires companies to have local presence in Singapore including a local qualified executive director, security deposits with local financial institutions and a local qualified compliance officer.
Massive government support available
As Singapore strives to keep its status as Asia's financial hub, the government has invested over S$1 billion into financial technology ventures. These investments into the fintech ecosystem has attracted multiple global fintech companies to set up their regional headquarters in Singapore. Coupled with the implementation of the Singapore Payment Institution License, Singapore cryptocurrency companies are well positioned.
Excellent banking facilities
There are 111 commercial banks, 49 merchant banks and 45 representative offices of international banks in Singapore. All banks are supervised by the Monetary Authority of Singapore in a highly regulated environment.
Highly skilled labor pool
In Singapore, you will have no issues finding talented employees as the labor force boasts a literacy rate of 97% and computer literacy rate of 99%. After securing the Singapore cryptocurrency license, there will be no shortage of talented candidates to join your team.
Requirements to set up Singapore cryptocurrency company
In order to secure the Singapore payment institution license, you will be required to applying using a Singapore company.
Some of the requirements include a local executive director, a local compliance officer, local registered address/office and paid up capital of at least S$100,000. Depending on the exact business activity and volume of monthly transactions, you may require a security deposit with a local financial institution.
It is extremely important for your Singapore company to stay compliant to the regulations set out by MAS. Failure to do so will result in heavy punishments such as hefty fines of S$250,000 and striking off your entity. Contact us to find out more about how to set up a Singapore cryptocurrency company. Our team of experts will revert within the next 24 hours.
Timeline to set up a Singapore cryptocurrency company
Tetra Consultants expects to complete the set up of your Singapore cryptocurrency company within 4 months. This includes Singapore company registration, corporate bank account opening, Singapore cryptocurrency license application, drafting of required AML/CFT documents and hiring local qualified employees for your business.
Disadvantages of a Singapore cryptocurrency company
Unlike some other countries, local presence is required to set up a cryptocurrency in Singapore. This is to ensure that cryptocurrency licenses are only granted to serious businessmen who are looking to conduct cryptocurrency businesses instead of being a license broker and reselling the license.
Some Singapore banks are still reluctant to onboard Singapore cryptocurrency companies. However, Tetra Consultants is confident to secure your corporate bank account with a local Singapore bank. See this webpage on our strategy to open your corporate bank account.
Alternatively, Tetra Consultants will open your corporate bank account in a crypto-friendly jurisdiction such Switzerland, Malta, Estonia or Liechtenstein.
What other reputable jurisdictions to consider?
Alternate jurisdictions that international clients can consider when choosing where to set up your cryptocurrency business include Estonia and Malta.
Estonia
Estonia is a popular crypto-friendly jurisdiction in Europe with less regulations as compared to other crypto-friendly jurisdiction such as Malta or Gibraltar. Over the past 12 months, the Estonian government has approved more than 900 cryptocurrency licenses.
Contact us to find out more about how to set up an Estonia cryptocurrency company. Our team of experts will revert within the next 24 hours.
Malta
Malta government has introduced the Malta Virtual Financial Assets (VFA) license for potential cryptocurrency businesses. This license is built upon three pillars: consumer protection, market integrity and financial stability.
Depending on the intended business activity, you will be required to apply for one of the four classes of licenses. Each class of license has its own set of requirements, application fees and timelines.
Contact us to find out more about how to set up a Malta cryptocurrency company. Our team of experts will revert within the next 24 hours.
How we can help
Our team of experts will understand your business activity and organizational chart. This includes where you plan to station your compliance team and audit teams. Depending on the information provided, Tetra Consultants will recommend the most suitable type of business entity for you to carry out cryptocurrency business in Singapore. In most cases, our international clients will set up a Singapore limited liability company. See this web page for the different types of business entities available in Singapore.
Tetra Consultants will register your Singapore limited liability with ACRA. This process will take approximately two business days. Once completed, Tetra Consultants will provide you with the corporate documents including Certificate of Incorporation and Memorandum & Articles of Association.
Our team will start preparing for your license application including recruiting a quality local executive director. Our team will review each candidate carefully in accordance to his work experience and capability. Our ideal candidate will have multiple years of working experience in either a bank or law firm. Once confirmed, Tetra Consultants will prepare an employment contract as per Singapore employment laws to be signed by all parties.
Simultaneously, Tetra Consultants legal team will draft required AML/CFT documents for your Singapore cryptocurrency license application. This includes AML/CFT policies and procedures, technology risk management policies, cyber hygiene procedures and cyber security protocols.
At the same time, Tetra Consultants banking team will assist to open your corporate bank account with either a Singapore bank or an overseas reputable bank. Once you receive the corporate bank account numbers, you will be required to deposit the paid-up capital into the account prior to the license application.
Throughout the above process, Tetra Consultants will communicate closely with our international clients and MAS. Once ready, Tetra Consultants will submit a quality application to MAS to secure the Payment Institution License. From our experience, MAS will revert asking for additional supporting documents and we expect the license to be approved within 3 months after submission.
The most important aspect of setting up a Singapore cryptocurrency company is to remain compliant and ensure your business is legally conducted. Tetra Consultants is experienced in setting up Singapore cryptocurrency companies and is happy to assist you with the same.
Contact us now and our team of experts will revert within the next 24 hours.