Singapore Family Office: Introduction
Singapore Family Office generally acts as a structure through which families manage their affairs. The family office may serve as an intermediary between the family and professional advisors such as lawyers, investment managers and accountants. It may also serve a more supervisory role and help to ensure that these key functions carry out their due diligence in the best interests of the family. As such, a family office can serve many roles, including wealth management, estate planning, tax planning and management of family-owned businesses.
The number of Singapore family offices being opened has also been steadily increasing alongside the amount of wealth in the country, with 221 offices being opened in 2020 as compared to 129 in the previous years and 22 in the year before that. This goes to show that people are starting to realize the value of a family office in managing their affairs, and how it is gradually being integrated into the wealth management ecosystem of Singapore.
A Singapore family office can be hassle-free to set up if you are familiar with the process. With Tetra Consultants at the wheel, you will be able to dedicate your time and resources to other more important activities.
With our lean-and-mean mentality, you can rely on our team of experts to provide you a seamless experience throughout the whole process of forming your Singapore family office. Our ultimate goal is for your family office to be operationally ready within the stipulated time frame.
Tetra Consultants assists our international clients to set up a family office in Singapore. Our service package includes:
Incorporation of

Singapore family office

and other subsidiary corporate structures

Managing transfer of assets
Creation of Family Charter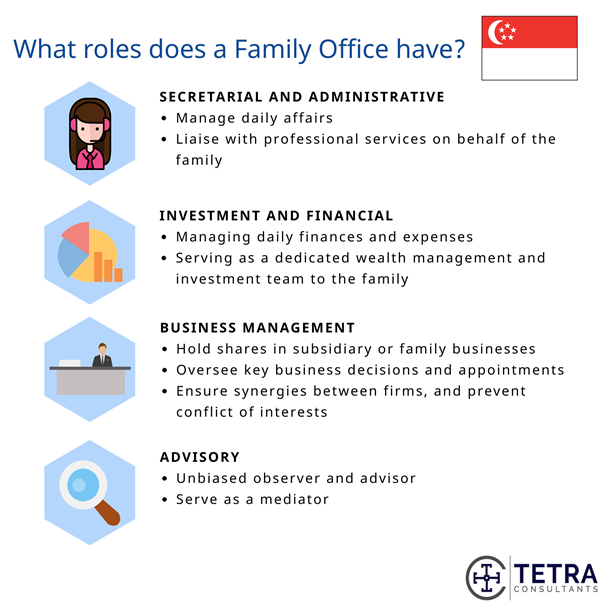 Rising wealth in Singapore
The Wealth Report 2021 by Knight Frank has found that the number of ultra-high net worth individuals (net worth of more than US$30 million) that are residing within Singapore has risen in 2020, in spite of the impact of the COVID-19 pandemic. Currently, it has the third fastest growing population of such individuals globally. This represents a significant increase both in absolute and relative terms as compared to the previous year's edition of the Wealth Report, where Singapore was placed 8th.
This shift in wealth might have occurred for both external and internal reasons, with geopolitical tensions in Hong Kong and the continued spread of infection in neighbouring countries such as Malaysia and Indonesia being external reasons that have made Singapore relatively more attractive.
From an internal perspective, Singapore also offers many factors that have attracted more wealthy individuals to its shores. With its reputation as a global financial hub, and high level of political and economic stability, Singapore has always been known as a safe haven for wealthy individuals. Even the pandemic did little to tarnish this reputation, as the country's strict controls and efficient healthcare system helped it to rebound and recover from the effects of the pandemic to become the safest place to be during the pandemic, according to the April edition of Bloomberg's Covid Resilience Ranking.
With so much wealth in Singapore, the need for wealth management has also increased accordingly.
Greater need for wealth management
There have been many high profile cases of wealth disputes that have gained attention in recent years, such as the battle for the estate of Nina Wang, or the power struggle over Samsung. With such cases seemingly becoming increasingly common, many of our wealthy clients and families have come to recognize the role a family office can serve in helping to manage their estate and family businesses to ensure appropriate wealth and estate management as well as succession planning. In using a family office, our clients are able to ensure that their wealth is adequately protected and managed such that it continues to grow, and also prevent legal conflicts over claims to assets.
What roles does a Family Office have?
Secretarial and administrative
At its most basic level, a family office can serve the most basic administrative needs of a family, helping them to manage their daily affairs. This might include making reservations for dinner, helping to organize travel arrangements and transport for the family. It might also take a more complex form, whereby the family office liaises with professional services on behalf of the family, for example the family office may work with a legal team to draft documents or work with accounting professionals to file tax returns behalf of the family.
Investment and financial
Continuing on from its administrative role, a family office can also help to manage the finances of the family by taking care of the bills of the family as well as the salary of hired staff. In a longer term role, a family office can also serve as an effective medium for wealth management and estate planning since it can hold onto shares or assets before they are subsequently distributed to the various beneficiaries.
To do this, an investment team might be hired to invest the liquid assets of the family based on specific instructions given from the family with regards to risk taken and the required return. Keeping such sensitive financial processes and information within the family office offers the same convenience of outsourcing it but retains privacy and control for the family. When such services are kept in-house, the family is more conveniently able to monitor its financial status and demand a greater quality of service since they are the sole client of the investment office.
Business management
As part of its investment activities, the family office might also end up holding shares in subsidiary or family businesses. When the office has a controlling share of these firms, the business management role of the family office becomes even more important since they are expected to oversee key business decisions as well as appointment of the board of directors. Quite commonly, multiple businesses are also being held by the family office, hence it serves an important role as the head office of these businesses and to ensure that synergies between these firms are well utilised and that no conflict of interests or unnecessary competition occurs.
Advisory
The most general role of a family office, and often the most underrated one. Even if the family office does not directly provide the services above, it can still serve a crucial role as an unbiased observer and advisor. Being independent of the family, they can serve a mediatory role in family disputes or as an alternative voice. This independence would also allow them to identify and rectify organizational biases within the family businesses.
Why set up a Singapore Family Office?
As we have seen, the roles that a family office can serve offers key benefits for the family in key areas such as wealth and estate management, succession planning, business management and advisory. On a simpler level, it also offers a greater level of convenience for the family in managing their affairs, as well as an unbiased advisor to oversee their affairs. Apart from these benefits, there are also additional benefits to setting up your family office in Singapore.
Supportive macroeconomic climate with an abundance of business partners
Singapore possesses one of the most supportive environments to manage your wealth from. The high levels of economic and socio-political stability will offer a favourable environment where you can establish your family office. Since Singapore is ranked 2nd in the 2020 edition of the World Bank's Ease of Doing Business Index, you can expect not only stability in the country, but also a high degree of ease in registering and managing your business.
Singapore is a major financial hub and is home to more than 700 local and foreign financial institutions, and multiple professional services firms. All of the Big 4 accounting firms operate in Singapore, and Singapore's legal system is well known for its efficiency. This has been further enhanced by the establishment of the Singapore Mediation Centre and the Singapore International Arbitration Centre, which offer multiple avenues for your business to quickly deal with business and legal disputes.
The large number of financial and professional institutions gives your family office a wide variety of options in terms of partners and investment options. Given Singapore's membership in multiple international and regional organizations, such as the Financial Action Task Force and Asia-Pacific Group on Money Laundering respectively, you can expect regulations in Singapore's financial industry to be compliant with international standards, ensuring the international compliance of your business. Apart from conforming to the same high levels that international standards are set to, international cooperation is also equally important to Singapore, as seen from how they are in compliance with the Organization for Economic Co-operation and Development's Exchange of Information standards. This further enhances its reputation and makes it easy for you to deal with companies or financial partners that are overseas as well.
Creation and expansion of scope of the Variable Capital Company
Recently established by the Variable Companies Act which came into effect in January 2020, a Variable Capital Company (VCC) is a new corporate structure for investment funds that offers greater flexibility and privacy. Originally for multi-family offices (an office that manages the assets of multiple families), it is likely to be expanded in 2021 to include single family offices as well. This allows single family offices the same flexibility in issuing and redeeming shares, as well as paying dividends out of capital. VCCs can also be divided into sub-funds, allowing investment managers to ring fence their investments of differing risk levels. Lastly, the register of shareholders is not public, and will only need to be disclosed to the authorities as needed.
Alongside this, an expansion to Singapore's Skills Framework for Financial Services aims to better illustrate the necessary skills to be a family office advisor, key responsibilities and performance expectations. Released by the Monetary Authority of Singapore in conjunction with the Institute for Banking and Finance Singapore, it aims to offer greater certainty to training providers and financial sector professionals as to what they need to train or enter the family office advisory scene, and also help family offices to identify suitable employees. This will help to expand the family office advisory sector in Singapore, offering your potential family office more options when hiring.
Retirement and residency planning
The Economic Development Board's (EDB) Global Investor Programme also offers permanent residence for investors that meet certain criteria. Specifically through the  family office route, having 5 years of relevant managerial and entrepreneurial experience as well as S$200 million in investible assets will qualify you for residency if you invest a minimum of S$2.5 million in a family office based in the country that possesses a minimum of S$200 million worth of assets.
Lastly, all the benefits of incorporating in Singapore would be applicable to you, regardless of whether you are an international or domestic investor since Singapore has a high degree of openness to foreign investment. This makes Singapore a good option for you to retire in. With Singapore being one of the few countries to continue attracting foreign direct investment in the COVID-19 period, you can expect that the country's business and regulatory environment is not only highly welcoming of foreign investment, but also highly qualified and experienced in working with foreigners and foreign investment. This will ensure you have a smooth experience when incorporating your

Singapore family office

, and subsequently in managing and operating it.
Requirements to set up a Singapore Family Office
There are no specific requirements to set up a Singapore Family Office. When operating a Single Family Office, there is no need to apply for a fund management license. However, when choosing to provide services to multiple clients, you will need to do so.
How to set up a Singapore Family Office
Establishing a single family office has the same procedure as registering a company in Singapore. Given the potential complexity of your family office, Tetra Consultants will advise you as to the best way to structure your family office to maximise your tax efficiency and to ensure that all the services you need are covered. While not compulsory, Tetra Consultants will also help you to draft a Family Charter governing the activities and powers of your family office before transferring the relevant assets to your family office's control. Subsequently, we will continue to ensure that your family office remains compliant to all financial reporting and taxation obligations by preparing these reports in a timely fashion.
Contact us to find out more about how to set up family office in Singapore. Our team of experts will revert within the next 24 hours.
FAQ
What do family offices invest in?
Family offices may invest in a variety of options, although this can be further restricted based on your Family Charter or instructions. Generally, they would invest in the standard range of financial products such as bonds, securities or real estate depending on your desired rate of return and risk level.
Why do people set up family offices in Singapore?
There are several reasons why people choose to set up family offices in Singapore. The country is known for its political stability, transparent legal system, and efficient business environment, which makes it an attractive location for managing and preserving wealth. Singapore's stable political and economic environment gives investors confidence in the country, making it a top choice for wealth management and investment.
Additionally, Singapore offers various tax incentives for family offices, making it a tax-efficient jurisdiction for managing family wealth. With its network of Double Taxation Agreements (DTAs) with over 80 countries, Singapore provides an ideal environment for tax planning, which is a crucial factor in wealth management. Additionally, Singapore has a reputation for being a low-tax jurisdiction, offering favorable tax policies for individuals and businesses alike.
Furthermore, Singapore has a highly skilled and multilingual workforce, which can provide support in various areas such as investment management, legal services, accounting, and administration. This is particularly important for family offices, which require a range of professional services to manage their assets effectively. The availability of skilled professionals in Singapore makes it easier for family offices to access the expertise they need to manage their wealth and ensure long-term growth.
Are family offices regulated in Singapore?
Yes they are, but single family offices (offices that only provide services for one family and connected persons) are granted an exemption from the licensing requirement.
When will my family office need to be regulated?
If your family office seeks to provide services to the general public as well, it will need to apply for and obtain a fund management license.
How to set up a family office in Singapore?
Establishing a family office in Singapore involves several steps, starting with defining the family's objectives. This requires determining the family's goals and objectives, investment philosophy, and risk appetite. The family must also determine which services they require, such as investment management, financial planning, tax planning, and estate planning.
Once the objectives have been established, the next step is to set up the family office's legal structure. This can be done in several ways, such as forming a private trust company, a limited liability partnership (LLP), a private limited company, or a foundation. Each structure has its own advantages and disadvantages, and the family will need to work with legal and tax experts to determine the most appropriate structure for their needs.
In addition, the family office must establish its operations, which entails hiring professionals such as investment managers, accountants, lawyers, and other specialists as required. The office must establish its own investment policies, risk management framework, and reporting procedures. Furthermore, the family office
What is the difference between a single family office and a multi family office?
The difference is in the number of clients they serve. Single family offices only have one client whilst multi family offices may have more.
At what net worth should you consider opening a family office?
A general gauge would be when you have more than US$1 million in assets.
Are family offices taxed?
Yes, they are. However, Singapore's Income Tax Act provides for several income tax exemptions under Sections 13CA, 13R and 13X. Our team of accountants will provide more information on your taxation obligations to ensure your office remains compliant.
How many family offices are there in Singapore?
As of 2020, there were 221 opened.