There are four steps to register new company in Singapore. Given that it ranks 2nd on the World Bank's 2020 Ease of Doing Business Index, it is easy to set up new company in Singapore as it possesses one of the most efficient regulatory frameworks in the world. The city-state's Registry of Companies, the Accounting and Corporate Regulatory Authority (ACRA) takes less than a day to approve new companies if all requirements are fulfilled and there are no additional compliance requirements. Tetra Consultants offers a full suite of corporate services to help you set up a new company in Singapore equally quickly.
There are four main steps to set up new company in Singapore.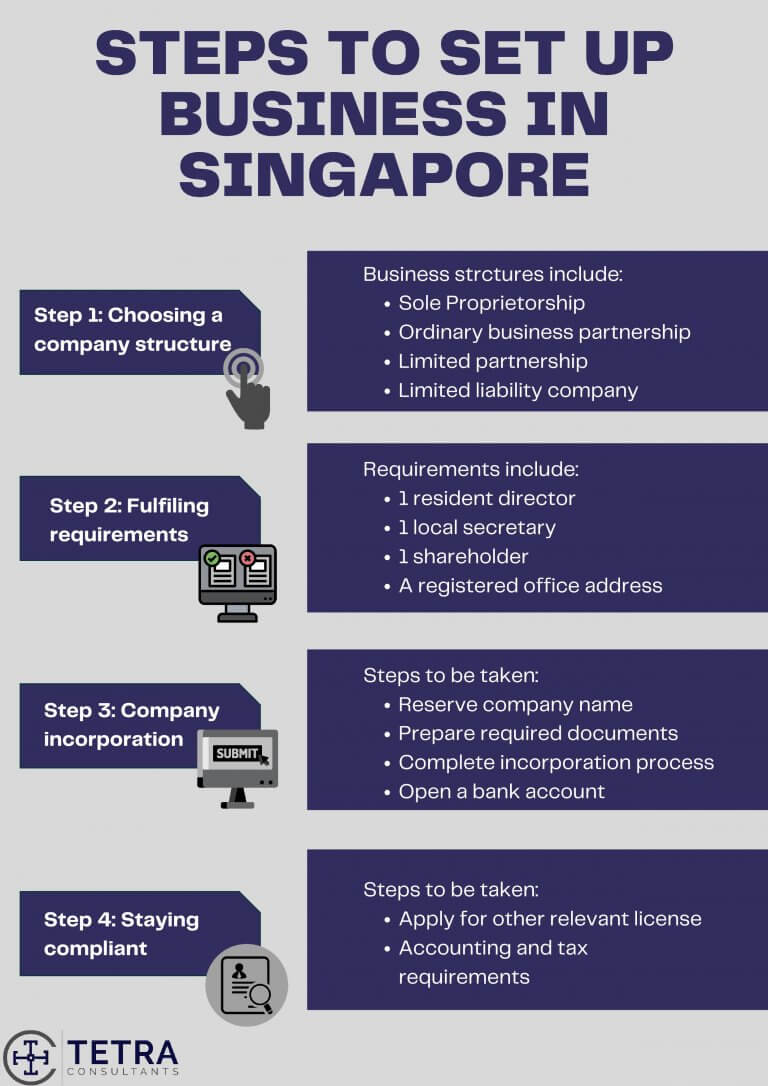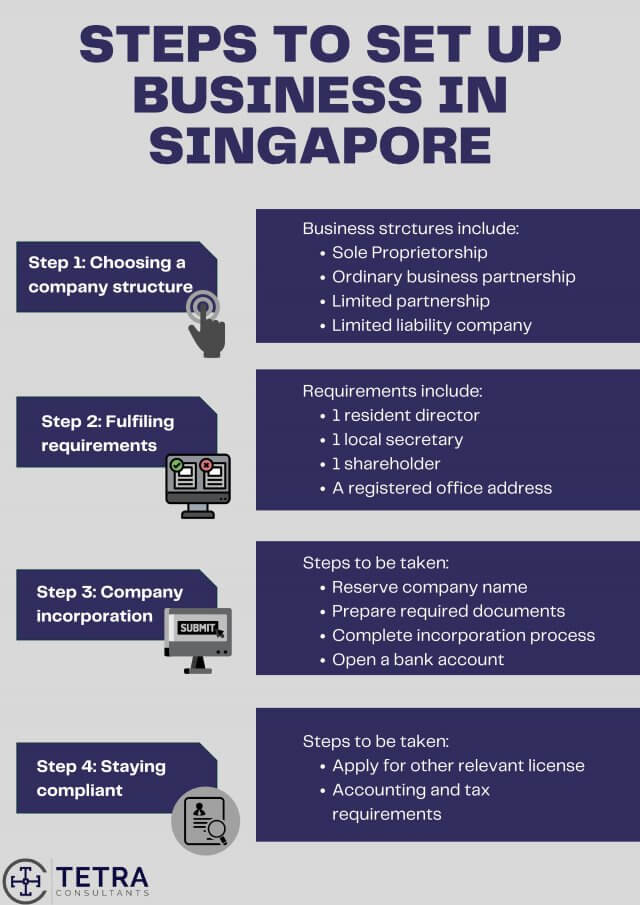 Step 1: Choosing a company structure
There are many company structures to choose from in Singapore, and each comes with its own set of distinct advantages. Tetra Consultants' first step in helping you with your

Singapore company registration

will be to understand your business needs and how they can best be fulfilled with one of the available company structures. 

Some available ones to choose from include:
Sole proprietorship

Ordinary business partnership

Limited partnership

Limited liability partnership

Limited liability company (public or private limited company)

Some key considerations when choosing your company structure include tax obligations, limitation of liability, and ease of succession. For these reasons, partnerships and sole proprietorships are less attractive since they are taxed at Singapore's personal income tax rate of 22% as opposed to the corporate tax rate of 17%. This leaves the private limited company as a very viable option for you to

start a business in Singapore

since it offers liability and a wide array of tax exemptions. 

Investors should also note that there is also one company structure that is relatively new and unique to Singapore, the limited liability partnership. This structure is popular with professional services such as lawyers and accountants since it is easier to administer and incorporate compared to the traditional corporate structure. 
Step 2: Fulfilling requirements
For this section, we will assume that you would like to set up a private limited company since it has the most stringent requirements to be incorporated out of all the company structures available. Tetra Consultants offers a wide range of services to ensure that you are able to fulfill these requirements so that your

Singapore company registration

can go as smoothly as possible. 

You will need to have:
1 resident director. We provide nominee resident director services for our international clients. A nominee director agreement will be drafted ensuring no decision-making power and KYC documents of the nominee director will also be provided for your peace of mind. 
1 local secretary.
1 shareholder.
A Singapore registered office address.

We will also provide a local registered address for your incorporated company's legal, banking, and governmental correspondence. 

Minimum paid-up capital of $1.

Foreign companies should also note that they need to submit their application through a registered filing agent. 
Step 3: Company incorporation
Name Reservation
Tetra Consultants will first reserve your proposed name with ACRA. We will also conduct a name search so that it will be unique and distinguishable, which would make it more likely to be approved.  
Preparation of required documents
We will then assist your company in drafting and submitting the necessary documents for your application. These documents include the Articles of Incorporation, business plan, and company constitution, as well as the personal identification documents of the directors and shareholders.
Completion of the incorporation process
Thereafter, we will courier the approved documents to your preferred address. The approval process is expected to take one business day. 
Opening of corporate bank account
Tetra Consultants works with an extensive network of banking partners and can assist you in opening either a local or offshore corporate bank account. Do note that

most Singaporean banks will require you to be physically present. Our team of experts will be on hand to ensure this meeting goes smoothly if this is your preferred choice.

For those who prefer non-travel banking solutions, we can also onboard your company in other international jurisdictions such as Hong Kong and Switzerland. This option also has the added benefit of a 0% corporate tax rate, assuming that your management team and business operations are not located within Singapore.
Step 4: Staying compliant
Applying for other required licenses
Lastly, we will help you to apply for any other relevant licenses that your business might need. Commonly regulated industries include food & beverage, education, and financial services.
Accounting and tax requirements
Looking to set up a new company in Singapore?
Contact us now to find out more about how to set up new company in Singapore. Our team of experts will revert within the next 24 hours.