Being the fifth largest consumer market in the world, Brazil offers an attractive option for foreign investors looking to start a business in Latin America. Combining the size of their domestic market with the increase in their pro-foreign policies, the country has been able to enjoy a mixture of domestic consumer driven and external driven economic growth. Sharing a border with multiple countries also makes Brazil a suitable place for you to establish a foothold to subsequently branch out and expand into the Latin Americas and the Caribbean. This has allowed it to become the biggest economy by Gross Domestic Product (Purchasing Power Parity) in the Latin American and Caribbean region. However,
Brazil company registration
may not be as straightforward as you think since the country is still very much a developing country where business regulatory policies are not entirely polished. Hence, registration and opening of a corporate bank account takes 16 weeks, a longer period of time as compared to other jurisdictions. Fortunately, you will not be required to travel down during this process. Tetra Consultants has summarized the 5 things you need to know before
setting up a business in Brazil.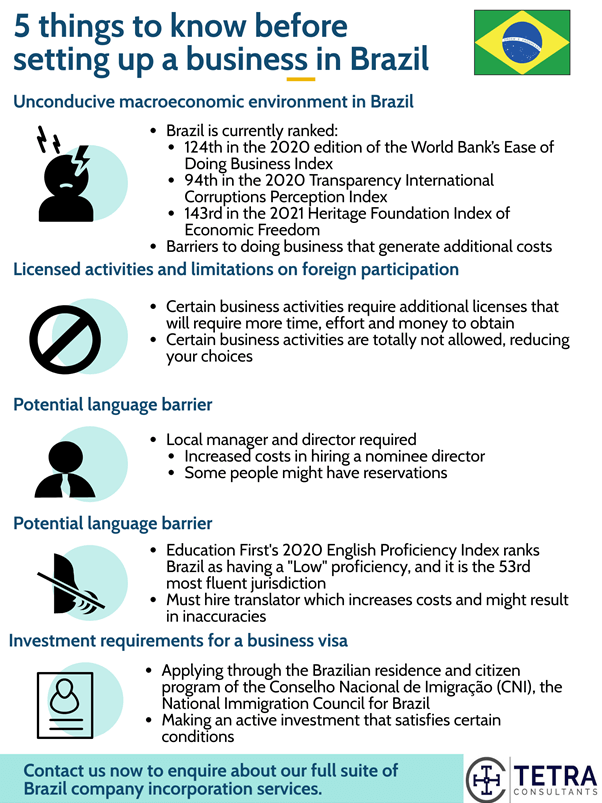 Unconducive macroeconomic environment in Brazil
Despite scoring well in terms of the size of their domestic market and other macro-indicators such as Gross Domestic Product, the macroeconomic environment is still underdeveloped in terms of the facilitation of business. These market barriers may represent additional costs for companies that are new to operating in Brazil and unfamiliar in navigating the business environment. These costs can come either in terms of distribution costs, employee benefits or tax. Commonly known as "Custo Brasil", these must also be taken into account before setting up a business in Brazil. 
Brazil is currently ranked 
124

th

in the 2020 edition of the World Bank's Ease of Doing Business Index

94

th

in the 2020 Transparency International Corruptions Perception Index

143

rd

in the 2021 Heritage Foundation Index of Economic Freedom
These rankings show the relative ranking of Brazil's macroeconomic environment as compared to other jurisdictions. There is still a lot of improvements that should be made in terms of the ease of the process of company registration and its subsequent management, as well as in terms of the access to economic opportunities. More importantly, corruption might be a pressing issue since it reduces the trust and credibility of the country and might also lead to unnecessary costs or lower quality services than paid for. These negative associations will also have spill over effects on your company and might even affect your company's reputation during international business deals.
Licensed activities and limitations on foreign participation

Part of these barriers are due to certain activities requiring additional licenses. These requirements would increase compliancy costs for companies and additional efforts on their part to meet. More importantly, the application process for these licenses would take additional time, increasing the already long company incorporation period of 16 weeks further. Due to a lack of centralization of such processes, there is little cooperation between regional and federal authorities in facilitating or standardization between requirements. This might mean that your business needs to go through multiple rounds of registration and also need to prepare different sets of documents. This might thus not only increase time taken for registration, but also its cost. 
Additionally, certain sensitive industries such as radio, television and publishing, air transportation, health care and security services might face additional restrictions on foreign ownerships or prohibited from operating entirely. This reduces the options available for your business.
Local company manager and director
Another barrier to doing business in Brazil is the need to appoint a local company administrator and director. Unlike other jurisdictions which do not specify the nationality of the directors, Brazil requires that at least one of the members of the board of directors is a Brazilian resident. In addition, another Brazil resident will need to serve as a local manager, even in branch and representative offices that do not have their own board of directors. This might be hard for countries who are new to doing business in Brazil to fulfil, since they might not have pre-existing contacts to tap on. Although Tetra Consultants works with a diverse range of professionals in the region and will draw up a nominee director agreement to restrict the decision making power of your nominee director, some people might still have reservations over this. Even if they do not, it would definitely increase the costs since you would need to hire one nominee director and manager.
Potential language barrier
Given that Brazil's official language is Portuguese, you might also run into a language barrier if you do not have staff that are proficient in the language. This is because Brazil is ranked 53rd on English First's 2020 English Proficiency Index, with a standard of "Low". This might make it hard for communication between your business and its business partners or customers, and also increase cost and time of processes due to the need to hire a certified translator and getting the documents notarized. More importantly, translation might also create minor inaccuracies that distort the actual meaning, leading to misunderstandings.
Investment requirements for a business visa
For those who prefer to be more hands on in running their business, they can opt to apply for a business visa instead. This can be done through the Brazilian residence and citizen program created by the Conselho Nacional de Imigração (CNI), which is the National Immigration Council for Brazil. 
To qualify for this, they will need to have an active investment in a company that would justify the need to be in the country to manage it. Passive investment instruments such as property or land would not qualify you. Therefore, to get the visa, you would first need to incorporate a Brazilian company, temporarily designate a resident manager, and transfer your investment to the company. The company in receipt of the investment will then apply to sponsor the visa for you. This investment must have a minimum value of BRL150,000 (US$30,000). Otherwise, on a case by case basis, the investment will be judged based on the number of jobs generated, the region where the investment will be applied, and which economic sector or what contributions it can offer to productivity or technology.
How can Tetra Consultants assist you?
Setting up a business in Brazil can be straightforward if you know the exact steps required. With Tetra Consultants at the wheel, you will be able to dedicate your time and resources to other more important business channels.
With our lean-and-mean mentality, you can rely on our team of experts to provide you a seamless experience in setting up all types of companies in Brazil. Our ultimate goal is for your Brazilian company to be operationally ready within the stipulated time frame of 16 weeks.
Our service package includes everything you will require to register company in Brazil:
Brazil company registration

CNPJ registration

Local company secretary and registered address

Local nominee resident director

Opening a local or international corporate bank account

Annual accounting and tax services
Contact us to find out more about Brazil company registration. Our team of experts will revert within the next 24 hours.