Given the meteoric rise of Bitcoin to a peak of USD 8,790.51 on March 4th, 2020, and an increasing number of businesses accepting Bitcoin or other cryptocurrencies as payment modes, cryptocurrency has become a readily emerging currency that we should all keep our eyes on. The forerunner of a push for fair and accurate regulation of this emerging currency has of course been Estonia, and an Estonia crypto license is thus the natural choice for businesses looking to foray into the crypto market.

Recent changes to Estonia crypto regulation have simplified the steps on how to get a crypto license in Estonia. Whilst the Estonia cryptocurrency license used to be 2 separate licenses, the crypto trading license and the crypto wallet license, they have now been combined into a single license known as the Virtual Currency Service Provider license. This license allows your business to offer both cryptocurrency exchange services (changing one cryptocurrency to another, fiat to crypto or vice versa) and cryptocurrency wallet services (helping people to send and receive cryptocurrencies as part of payments or trades).

Many businesses may be confused as to how to get a crypto license in Estonia, but rest assured because our team of experts are here to ensure a smooth application process so that you may begin your crypto transactions as soon as possible.
How to get a crypto license in Estonia?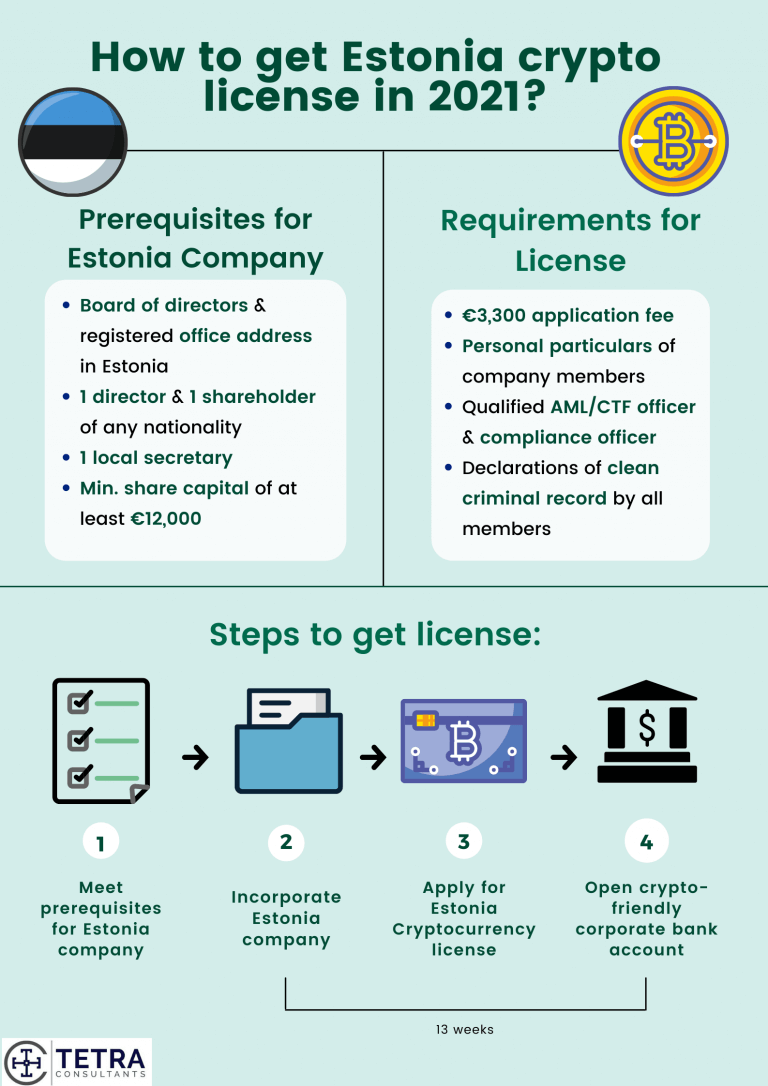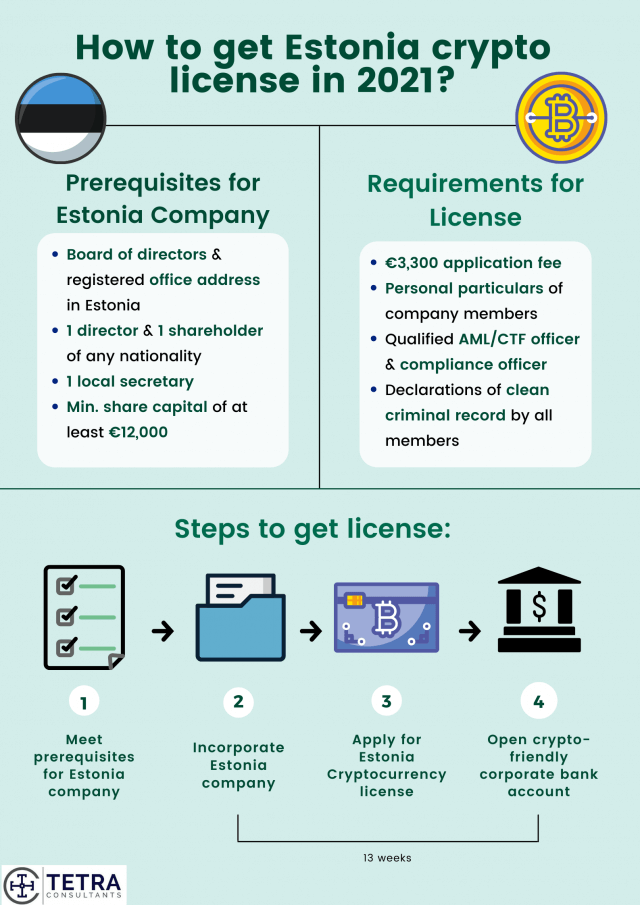 General timeline
The usual time frame for getting a crypto license in Estonia is 13 weeks, starting from scratch. The first week will be spent registering for an Estonian company. Once registration for this has been approved, the Estonian Financial Intelligence Unit (EFIU) will take approximately 60 working days to approve the license, although this process might extend by 2 to 4 weeks if they are not satisfied with the standard of internal controls. Lastly, a crypto-friendly corporate bank account must be opened in Estonia.
Prerequisites
Before even beginning to apply for the

Estonia cryptocurrency exchange license

, certain prerequisites must be met. Companies must first register for an Estonian company. This requires one director and one shareholder of any nationality, as well as a local secretary. The company's board of directors and registered office address must also be located in Estonia.

Rest assured that you will not need to travel down personally as Estonia has been named the most advanced digital society in the world by the Wired magazine, and they offer the full suite of services normally available physically through their e-services platform. Our team can also secure a nominee director for you if a representative is physically needed.

The minimum share capital of this business should be at least 12,000 EUR since

Estonia crypto regulation

has recently increased the minimum share capital for an Estonia crypto business from the previous amount of 2,500 EUR. The share capital can only be paid through fiat and can subsequently be used as part of the working capital of your company. Once these prerequisites are satisfied, you can proceed to reserve the company name and the actual application to incorporate the company can then be done with the Estonian Centre of Registers and Information Systems.

Applying for the license
Once this is done, any of the board members of the company may apply for the

Estonia cryptocurrency license

with the Estonian Ministry of Economic Affairs and Communications and pay the application fee of 3,300 EUR to the Estonian Ministry of Finance.

Estonia crypto regulation

has recently increased the application fee from 345 EUR to the current 3,300 EUR.

Further information required are the personal particulars of the applicant, directors of the company and the AML/CTF (anti-money laundering and combating terrorist financing) officer, as well as the AML/CTF officer's specific policies and internal control regulations. The officer should also be prepared for an interview with the FIU to determine their suitability for their job. An additional compliance officer should also be designated, possessing the capabilities and means to monitor the activities of the company across all business activities to ensure compliance to the tighter

Estonia crypto regulation

.

Declarations must also be submitted assuring the FIU that the directors, AML/CTF officer and other members of the company have not committed any crimes against governmental authorities or pertaining to money laundering. Once the license has been given, a crypto-friendly corporate bank account should also be opened to facilitate any transfers.
Trying to get a crypto license in Estonia 2022?
Even though the steps on how to get a crypto license in Estonia may seem tedious, rest assured that it is a one-off process since the Estonia cryptocurrency exchange license will not expire, and even has the additional benefit of European Union (EU) passporting rights, allowing it to be used throughout the EU.
Tetra Consultants provides our clients with an easy, hassle-free way to obtain a cryptocurrency license in Estonia. Our team of experts will guide you through the full application process so that you can start operating your crypto business as soon as possible.
Contact us now for a free, non-obligatory consultation and we will revert within 24 hours.