Deciding on which countries to expand your business to can be a complex and difficult decision.  As an aspiring entrepreneur, you might have heard of the lucrative business environment of Isle of Man and might be wondering about what exactly a Isle of Man Iimited company is. In this article, Tetra Consultants will cover the 6 most important things to know about an Isle of Man limited company so that you may better understand this business phenomenon and make a more informed decision about whether you should register company in Isle of Man.  
Firstly, it is important to recognise what the different types of limited companies are.  There are limited liability companies, companies limited by shares, companies limited by guarantee and hybrid companies limited by having a combination of guarantees and shares.  This article by Tetra Consultants will cover each of these 4 main types of limited companies, explaining their unique characteristics, similarities and any other relevant information about these corporate structures.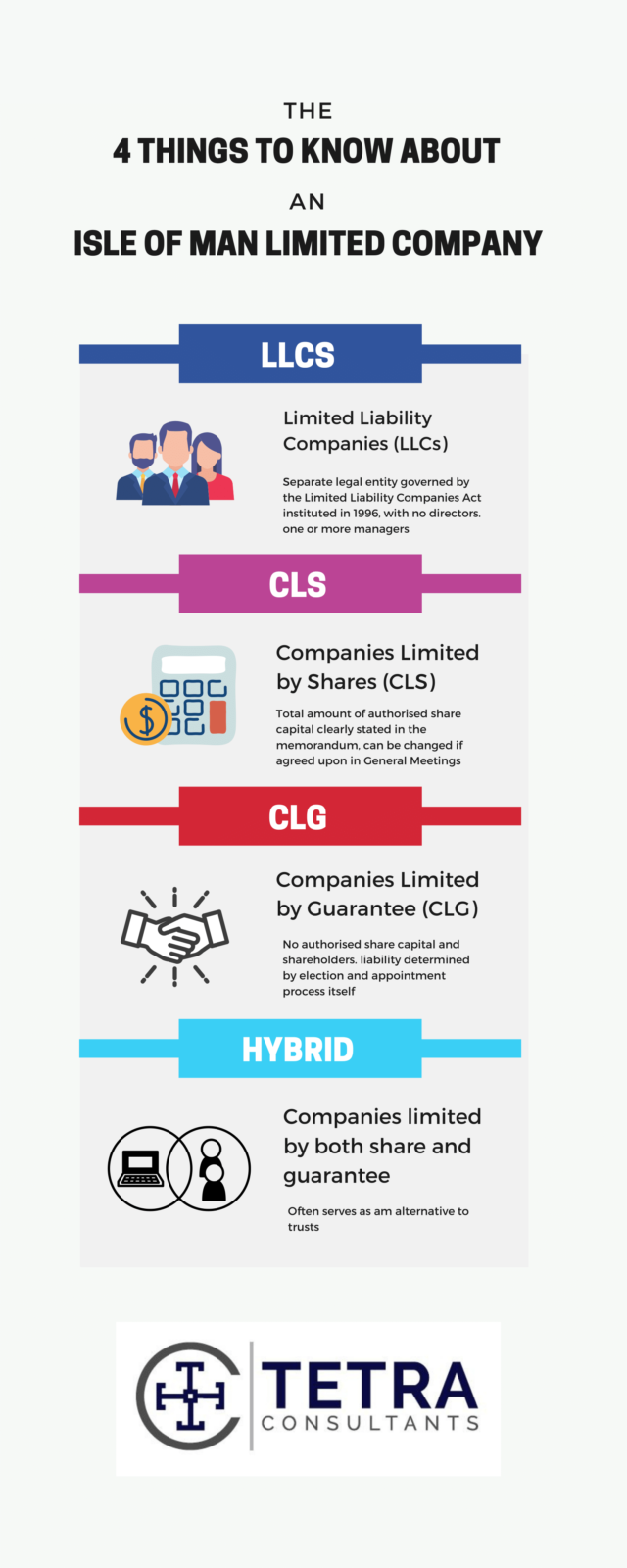 1. Limited Liability Companies
The Isle of Man Limited Liability Company (LLC) is governed by the Limited Liability Companies Act instituted in 1996.  Additionally, the documents governing the LLC are in accordance with the articles of organisation, which are officially registered through Isle of Man's Companies Registry.  Such information will be accessible through public records, with only the company's operating agreement, a document concerning the internal management and running of the LLC, remaining private.  Upon receiving accurate and appropriate documentation from your business, the Companies Registry would then give you a certificate organisation.  This certificate represents your company's proof of registration.  Thus, this process can be followed for you to successfully set up Isle of Man limited company.
With regards to the business structure and corporate hierarchy of an LLC, this specific type of firm will not have any directors, with the members of this LLC in charge of international regulations and processes.  Despite this, one is allowed to select 1 or more managers to run the business and ensure compliance to the relevant stipulations and terms of its operating agreement.   
Meanwhile, the liability of the company's members is restricted to the amount of capital they individually contributed, as established in the aforementioned articles of organisation.  Membership under the business is not transferable or assignable as well.  Furthermore, there exists no official mandate for formal meetings between the members of the business.  In fact, there is no stipulation that annual financial statements of the company must be provided as well.  However, the Limited Liability Companies Act does expect that a sufficient level of accounting needs to be maintained such that the firm's financial transactions can be displayed and justified.  There are also no stipulations about the segregation of company ownership in terms of equity and shares from business management in terms of the directors/managers appointed. Thus, the LLC business structure is especially suitable for holding companies smaller in scale as well, or even smaller trading companies, with no need for annual general meetings and would benefit from these laxer regulations which reduce the costs of administration and operation commonly associated with most other business structures.  
Moving forward, should there be any changes to the Articles of Organisation, this must be filed with the Isle of Man's Companies Registry again.  In fact, annual returns must be filed with the Companies Registry too, as well as relevant information about the members and managers under the business.  Thus, any modifications made to the LLC throughout the year must be updated to the Companies Registry accordingly. 
2. Companies Limited by Shares
Unlike an LLC, companies limited by shares are governed by the 1931 Act instead.  Yet, you may be wondering what exactly a company limited by share constitutes in the very first place.  For such companies, it is a requirement for the total amount of authorised share capital it intends to register to be clearly stated in its memorandum of association.  Additionally, the distribution of this share capital into shares of a fixed value has to be clearly stated in its  memorandum as well. 
Such authorised capital be changed or shifted through a company's resolution after a General Meeting.  This means that this capital can be increased or decreased if the members come to an agreement within these meetings.  However, there are capital maintenance regulations in place to ensure that the company's creditors, i.e. those who provide such capital, are well protected.  Furthermore, a company can choose to have different classes of shares as well, with these classes each having their own unique set of rights and powers.  Meanwhile, the authorised share capital for your business can be issued in whichever currency preferred by the entrepreneur as well. Fractional shares can even be issued if the company wishes to as well.  
3. Companies Limited by Guarantee
In contrast to companies limited by shares, a company limited by guarantee has no authorised share capital whatsoever, with no shareholders as well.  While members can be appointed into positions within the company without them having to provide any capital, the election process which takes place for this appointment functions as an acknowledgement that a guarantee of an agreed amount exists.  Thus, the business can mandate the member to pay this amount, with the specific amount clearly established in the aforementioned memorandum of association for the company.  
Despite the membership under a company limited by guarantee not being as transferable of a position as companies limited by shares, members can decide to leave, with new members being elected to fill these positions as well. 
4. Hybrid Companies
Hybrid companies which are limited both by shares and guarantee often serve as alternatives to a trust, and have similar traits to a foundation.  This can be potentially beneficial for businesses operating in civil law jurisdictions, where the notion of a trust is not officially recognised.  Hence, the business structure of hybrid companies can be a suitable choice.  However, given the rather niche applications of this type of company, it is seldom applied and utilised in multiple jurisdictions across the country today.  
Conclusion
Navigating the country of Isle of Man's complex business climate might be a challenging process – a hassle to say the least.   As such, Tetra Consultants hopes that this article has provided you a much better understanding about the 4 key business structures to know before choosing to set up Isle of Man company so that you can truly decide on whether you should register company in Isle of Man yourself.
So, what are you waiting for? Contact us to find out more about the process of starting a business in Isle of Man, and our dedicated and experienced team will respond within the next 24 hours.  Tetra Consultants will not only empower you by helping to navigate the different regulations of Isle of Man, but also aid in facilitating the registration of your company there while providing invaluable, nuanced insights into any potential challenges.