Delaware offers many potential benefits to companies, which is why it is home to almost 1.5 million incorporated entities. This is even more than its population. This definitely shows the attractiveness of registering a company in Delaware. The first step to register company in Delaware would be to choose a suitable corporate entity. This is one of the most important steps since there are different company structures in Delaware, including sole proprietorships, partnerships, limited liability companies and corporations. When deciding the most suitable company type, it is important to consider various factors that include but are not limited to availability of personal liability protection, tax ramifications, ownership and management flexibility as well as compliance requirements. Before the start of the engagement, Tetra Consultants will fully understand your business before recommending the most optimum type of company in Delaware to help you achieve your business' goals. Some considerations we take into account include the type of business activity, corporate tax obligations and nationalities of shareholders and directors. Our consultants will also offer more information on the requirements of setting up these entities. Generally, most of our international clients would choose to register a limited liability company. When you register LLC in Delaware, you can benefit from a good mix of ease of incorporation, tax benefits and liability protection, allowing you to expand your business and achieve your long term goals.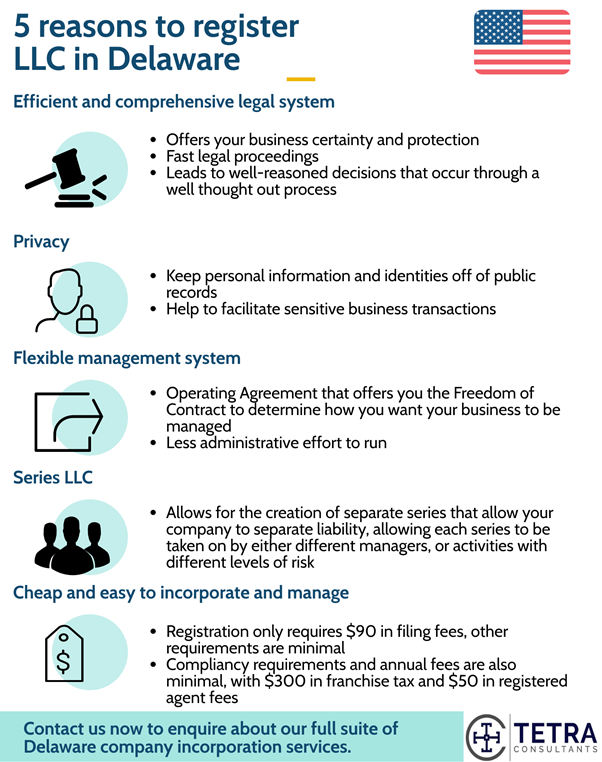 Efficient and comprehensive legal system
One of the biggest reasons to register LLC in Delaware is because of the certainty and protections its legal system can offer your business. This allows Delaware companies to better and more accurately plan for the future. The legal system excels in several ways. Firstly, unlike most of the country, there is a bi-partisan political consensus that Delaware corporation law statutes are one of the main reasons behind its attractiveness for company registration. This motivates both parties to work together to ensure that it remains updated and modern. Secondly, there is a specialized court for corporate cases. The Court of Chancery has judges and lawyers specializing in corporate law that will ensure your corporate legal disputes get fairly and quickly resolved without the need to wait for juries, or get buried amongst non-corporate cases. This creates a strong body of corporate case law that offers predictability and certainty for Delaware corporations. In all, these qualities have allowed companies to conclude legal proceedings in as little time as 2 months, significantly shorter than other jurisdictions where it might take up to a year.
In particular, the people who would benefit the most from these systems are those who foresee their companies being involved in significant legal action. Businesses such as development and licensing would need to engage in corporate litigation at some point of time to defend their registered intellectual property. Companies that use a Delaware corporation as a holding company for their intellectual property would also benefit from Delaware's efficient and comprehensive legal system since they can expect a written, well-reasoned decision that comes about through a well thought out process. 
Privacy
As compared to corporations, LLCs offer significantly more privacy and confidentiality with regards to how much information on your company and its directors will be available on public company registers. As compared to corporations, LLCs allow you to keep the names and addresses of your company's directors and officers private during franchise tax payments.
Compared to LLCs in other states, Delaware is also one of four states that allow you to keep the ownership information of your LLC private. This shows that it is in fact registering an LLC in Delaware that offers these privacy benefits, and not the structure of the LLC in itself. 
However, investors should note that this privacy does not equate to secrecy. Even though such information will be held by the registered agents, they are also legally obliged to comply with the State in the investigation of any fraudulent activity. Therefore, the benefit of privacy that we are referring to here is in terms of the competitiveness of business, in that there might be legitimate business transactions that can only occur with strict levels of confidentiality. 
Flexible management system
Unique to Delaware, LLCs may be governed under an Operating Agreement as opposed to the more formal and tedious Articles of Incorporation as per other states. An Operating Agreement allows you to dictate and enforce how you would like the company to be run with regards to profit sharing, decision making ability and other business affairs. It still remains enforceable by court despite its informality due to the fact that it is seen as a contractual document or written agreement. Due to this, it also grants owners the Freedom of Contract. This allows the owners of the company to easily decide how they want to manage the company and grants them the autonomy and flexibility in doing so. It also requires much less administrative effort to run as compared to a corporation. For example, the requirement to have an annual general meeting is waived.
Series LLC
Much like cell companies in other jurisdictions, Delaware allows for the incorporation of a specific form of LLC known as a series LLC. This allows you to have different members for the various individual series, and separate the liability of these series from each other. This would be particularly useful for companies that want to separate their holdings based on the level of risk, as this would allow them to carry out risky activities without jeopardizing their stable, core business activities. This also allows companies to segment it based on different customers, separating their assets from each other. 
Cheap and easy to incorporate and manage
A Delaware LLC only costs $90 in filing fees to register and requires minimal information or other requirements. There is no minimum capital requirement, or residency requirement for directors. As compared to a traditional corporation structure that usually needs to draft and prepare several corporate documents, LLCs only need an Operating Agreement. 
In terms of cost and ease of management, you would only need to pay the franchise tax of $300 that is standard for all LLCs and the registered agent fee that is usually around $50. You would only need to submit one form as part of your compliancy requirements. This is significantly easier as compared to other jurisdictions.
How can Tetra Consultants assist you?
The process of Delaware company registration is hassle-free if you know how. With Tetra Consultants at the wheel, you will be able to dedicate your time and resources to other more important business channels.
With our lean-and-mean mentality, you can rely on our team of experts to provide you a seamless experience throughout the whole process of setting up a business in Delaware. Our ultimate goal is for your Delaware company to be operationally ready within the stipulated time frame of 5 weeks. 
Our service package includes everything you will require to register business in Delaware:
Company registration with 

Delaware Division of Corporations

Local company secretary and registered address

Registered agent

Opening local or international corporate bank account

Financial and business license applications

Annual filling and tax services

Contact us to find out more about how to register company in Delaware. Our team of experts will revert within the next 24 hours