Situated in the Eastern Mediterranean, the Republic of Cyprus is one of the most populous islands in the Mediterranean. Steadily advancing, the nation is proclaimed for its high-income economy offering foreign investors a business-friendly environment with low corporate tax rate. While it is often known for being a Mediterranean vacation destination with white sandy beaches, this undersells the various economic policies put in place by the Cypriot government that have resulted in the economic diversification and development of the island nation. These changes in policies have also allowed them to meet the admission criteria of the European Union (EU), thus enabling them to join the EU in 2008. Being part of the Eurozone, they are able to benefit from the high and transparent standards of regulations that are set by the European Union, thus setting up a company in Cyprus will be a good idea if you are looking to not only capitalize on the good business environment arising from these regulations, or if you are looking for an entry point into the European Single Market. Tetra Consultants helps our international clients to register company in Cyprus, and aims to have your company operationally ready in 6 weeks. Simply follow the 6 steps below to enjoy a hassle-free incorporation process.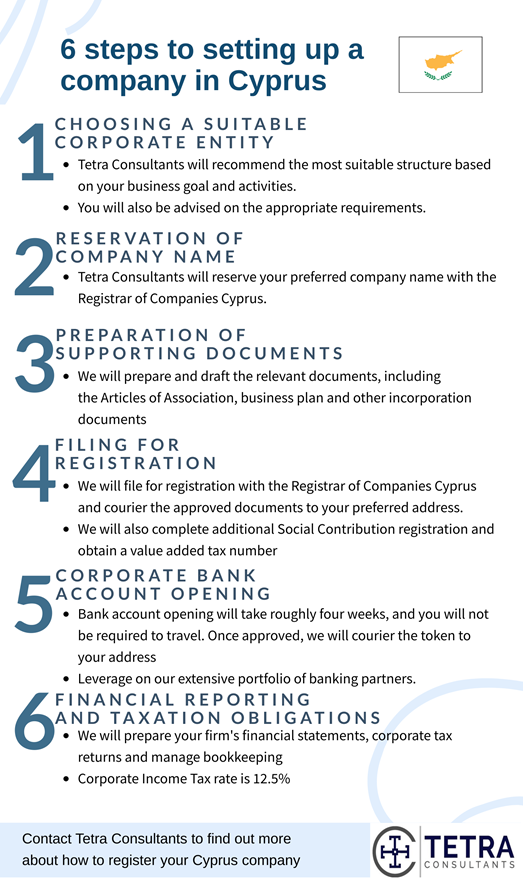 Step 1: Choosing a suitable corporate entity
The most important and first step in setting up your company will be to decide the structure to use. After understanding your business goals and activities, our team of dedicated consultants will recommend the most suitable corporate entity for you to carry out your business. 

Common corporate structures include:

Cyprus limited liability company.

This form of company is most popular amongst our foreign investors, especially those who are looking to start a new business venture in Cyprus. It represents a separate legal entity from its owners, and thus offers you protection from the liabilities incurred by the business. To form a

Cyprus limited liability company,

you will need a local agent, registered office, secretary, and minimally one director and shareholder. The director and shareholders need not be resident in Cyprus. No paid up capital is required. This sort of company can also be used as a

Cyprus holding company.

Branch office. A branch office is a viable option for companies that are already incorporated and in good standing in another jurisdiction, and are looking for a convenient entry into Cyprus. Branch offices are cheaper and easier to manage since they are simply an extension of the parent company as opposed to separate, but this does come at the cost of liability protection. Foreign companies that are looking to do the same but without profit-generating activities can consider a representative office instead.

International trust. International trusts are mostly used for tax planning purposes by non-resident settlors and beneficiaries since they offer full foreign ownership and no income or estate taxes. However, at least one of the trustees must be permanently resident in Cyprus.  

Based on which corporate structure you choose, you will also be advised on the optimum paid up share capital, requirements and whether there is a need to apply for any licenses to operate your business.
Step 2: Reservation of company name
Tetra Consultants will reserve your preferred company name with the Registrar of Companies Cyprus.
Step 3: Preparation of supporting documents
In most cases, the directors and shareholders are required to provide basic KYC documents. Some of these documents include the names of directors, certified true passport copies, proof of address, bank reference letter and CV for our internal due diligence checks. 

Our team will also advise and assist clients who are looking to incorporate in Cyprus with renting a local office and appointing a nominee director if preferred. The registered office will be used to maintain all corporate records and official documents whilst the nominee director will offer an added layer of privacy by keeping your name off of public records. 

According to the business activity and corporate structure, Tetra Consultants will also draft Articles of Association, business plan and other incorporation documents.

Your Articles of Association drafted will include key information about your company and its directors, the amount of subscribed share capital, share classes, duration of the company and other information with regards to your business activities. 

Generally, the Articles of Association will have to be translated into Cyprus' official languages of either Greek or Turkish. We will assist in providing official translations of the necessary incorporation documents.
Step 4: Filing for registration 
We will then proceed to file for registration with the Registrar of Companies Cyprus.

After receiving approval, Tetra Consultants will courier the Certificate of Incorporation, Memorandum and Articles of Association and other corporate documents to your preferred address. This will have your business registration number. 

We will also translate these documents into English for your review and perusal.  To complete your company registration, we will obtain a Value Added Tax Number from the 

Tax Department

and complete Social Contribution registration with the 

Ministry of Labour, Welfare, and Social Insurance

  to ensure that you are compliant with all regulations issued by the Cyprus government. 
Step 5: Corporate bank account opening 
After registration, Tetra Consultants will assist you in opening a

corporate bank account

. Our team has established partnerships with multiple reputable banks in Cyprus. We will present your business to each relationship manager and compliance team.

Typically, a corporate bank account opening will take roughly four weeks. In most cases, the directors and shareholders are not required to travel. However, if travel is required, we will have a representative accompany you to the bank meeting. Alternatively, our team will negotiate with the banks to conduct a conference call instead or to request for a waiver. 

The meeting may be conducted in Greek or Turkish. In such cases, our team will also send a representative to attend the meeting so that any potential communication barrier can be overcome. 

Once your account has been successfully opened, Tetra Consultants will courier the internet banking token and access codes to your preferred address.

Some of the international reputable banks we work with include

Bank of Cyprus

,

Cyprus Development Bank

, and 

Hellenic Bank

. By engaging our services, you can leverage on our full portfolio of banking partners.
Step 6: Financial reporting and taxation obligations  
Following the setup of your new Cyprus company, Tetra Consultants will continue to provide you with the necessary accounting and tax services to ensure that you can continue to legally conduct business while staying compliant to regulatory obligations.

Our team of dedicated chartered accountants will timely prepare your firm's financial statements, corporate tax returns and manage bookkeeping on your behalf. These books and accounts must be kept for 6 years.

Generally, corporate income tax is charged at 12.5% 

Our team of dedicated consultants will continue to clarify any doubts you may have with regards to your company's obligations.
How can Tetra Consultants assist you?
Cyprus business set up can be hassle-free if you are familiar with the process. With Tetra Consultants at the wheel, you will be able to channel your time and energy into other more important aspects of your global business.
With our lean-and-mean mentality, you can rely on our team of experts to provide you a seamless experience throughout the whole process of Cyprus company registration. Our ultimate goal is for your Cyprus company to be operationally ready within the stipulated time frame of 6 weeks. 
Our service package includes everything you will require for setting up a company in Cyprus: