Boasting a world-class infrastructure, Singapore has established a strong reputation as a global business hub in the heart of Asia. Having ranked 1st in the Global Competitiveness Report 2020, Singapore's competitive economic environment provides a fertile ground for entrepreneurs to start a business in Singapore. Furthermore, the ease of starting a business can also be attributed to the fuss-free process for individuals who wish to register a company in Singapore. In this article, we will explore why it is ideal to set up a new company in Singapore.

Reasons to start a business in Singapore: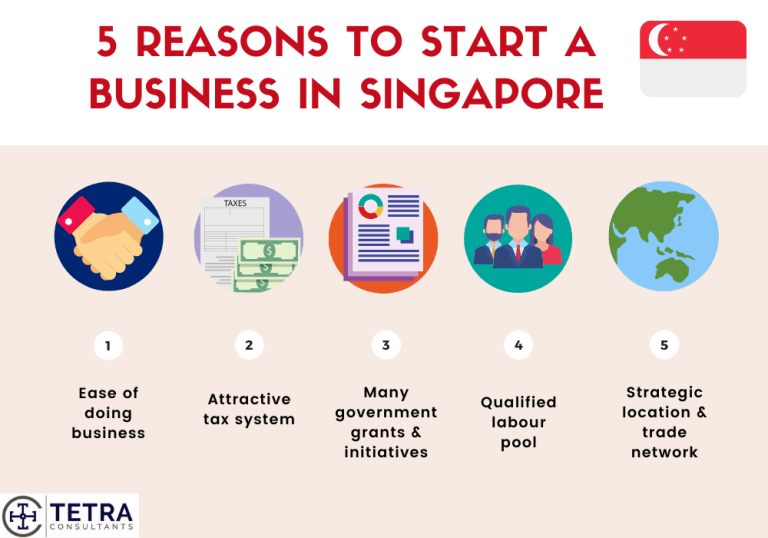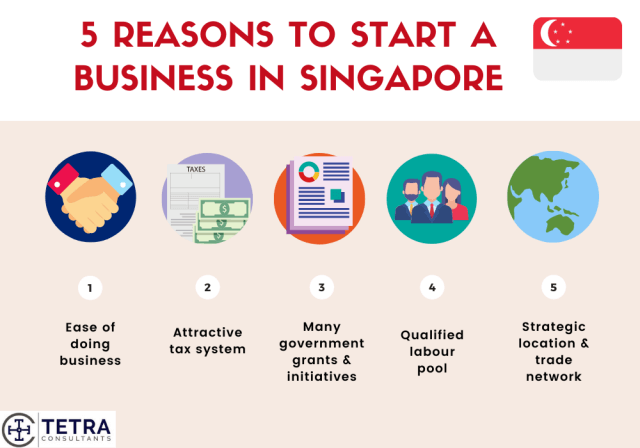 #1 Ease of doing business
Singapore consistently topped the global charts for the World Bank's Ease of Doing Business from 2007-2016 and maintained 2nd position from 2017 to 2020. This ease of doing business can be attributed to Singapore's efficient and bureaucracy-free regulatory frameworks, as

Singapore company registration

can be completed within days. Coupled with low costs of incorporation and fuss-free paperwork, the stable and efficient structure makes it conducive for businesses looking to operate in Singapore.
#2 Attractive tax system
Singapore offer

s one of the most attractive tax structures in the world, with a corporate income tax rate of 17%. New companies can receive significant tax breaks during their first 3 years, thereby effectively reducing their tax rate to 0% for the first SGD100,000 of income. There are also

no capital gain taxes and no withholding tax on dividend distributions. Additionally, Singapore's personal income tax structure is progressive, with marginal rates ranging from 0-22%. Singapore also charges one of the lowest value-added tax rates at 7%.

Coupled with numerous tax incentives and grants, this effectively lowers businesses' payable taxes. Therefore, many foreign entrepreneurs and companies are drawn to set up a company in Singapore to capitalize on its relatively low business costs.
#3 Wide array of government grants and incentives
Additionally, the Singapore government offers attractive grants and incentives to help promote the growth of newly established businesses. One such example is the ACE Startups Scheme. Aimed at first-time entrepreneurs, it provides mentorship support and a startup capital grant. Moreover, the scheme supports startups with advice, learning programmes and networking contracts.

Another example is the Tax Exemption Scheme for New Startups in Singapore. The nation has an established reputation for having a vibrant startup ecosystem. It provides a special tax exemption to startups for the first three assessment years. By lowering the financial hurdle to start a business, the state promotes entrepreneurship and assistance to startups.

Singapore also provides a wide array of business-friendly tax incentives, promoting an environment that encourages greater R&D activities. This can be seen in the fact that Singapore ranked 8

th

worldwide in the Global Innovation Index 2020, which demonstrates how Singapore enhances its tax regime to support its aspirations as an innovation hub. This is evident in policies like the Productivity and Innovation Credit (PIC) scheme which incentivises businesses to continually invest in innovation to improve their productivity and efficiency.
#4 Qualified pool of labour
Singapore boasts a highly talented and cosmopolitan pool of labour. The country has topped the Global Talent Competitiveness Index (GTCI) by INSEAD in Asia-Pacific and became the only Asian country to make it to the top 10. This can be attributed to the excellent quality of education and resources available to upskill workers, which has substantially improved economic productivity as a whole. There is also a significant number of highly educated workers from local and foreign universities who are proficient in both English and an Asian language. As English is the main language of business communication in Singapore, having an English-educated workforce is exceedingly useful. 

Moreover, with its open immigration policy, companies are able to gain access to a wide pool of talents who are well-equipped with relevant work expertise.
#5 Strategic location and Network of Trade Agreements
Located at the heart of Southeast Asia, Singapore provides excellent global connectivity to major economies such as China and Japan. Its airport, Changi Airport, has been named as the world's top airport for 8 consecutive years. Moreover, Singapore is hailed as a leading international financial centre in Asia due to its strong capabilities across the fields of wealth and asset management, enterprise financing, infrastructure financing and much more.

Over the years, Singapore has forged strong bilateral ties with neighbouring countries. The Singapore government has signed 24 Free Trade Agreements (FTA) with major economies, such as China, India and the United States. With an extensive network of FTAs, Singapore demonstrates its sheer commitment to free trade and providing lower tariffs on goods and services.

Addition

ally, Singapore has over 90 Double Tax Agreements (DTA). The agreements aim to minimise tax barriers to investment and capital flows, further creating a conducive environment for investors and firms.
Looking to start a business in Singapore?
Singapore's ability to attract foreign entrepreneurs to set up a business is indisputable. With its pro-business policies, attractive tax systems, easy company incorporation process and skilled workforce, it is no doubt that Singapore is the ideal choice to start your business.
Looking to set up business in Singapore? Tetra Consultants' team of professionals will guide you through the full process hassle-free, from appointing a qualified nominee director to incorporating your company and opening a corporate bank account.
Contact us now and we will revert within 24 hours.