India is one of the world's largest GDP producers, taking the 6th spot in 2021 with a cumulative GDP production of approximately USD$3.05 trillion. The country attracts large scale Foreign Direct Investments (FDI) yearly, making the economy one of the fastest-growing across the globe. According to statista, the expected growth rate for India within the next 5 years is expected to range between 6% to 8%, presenting an attractive outlook for many foreign investors. The country is also home to many incredible talents, honing a strong pool of competitive labour force that specialises in the field of science and technology. Additionally, the country has the 2nd largest population in the entire world, presenting many with a massive local consumer market to invest in. As a result, many firms started to register company in India, and at the same time struggled with the process to register a business in India. In this article, Tetra Consultants presents x things to know about foreign company registration in India.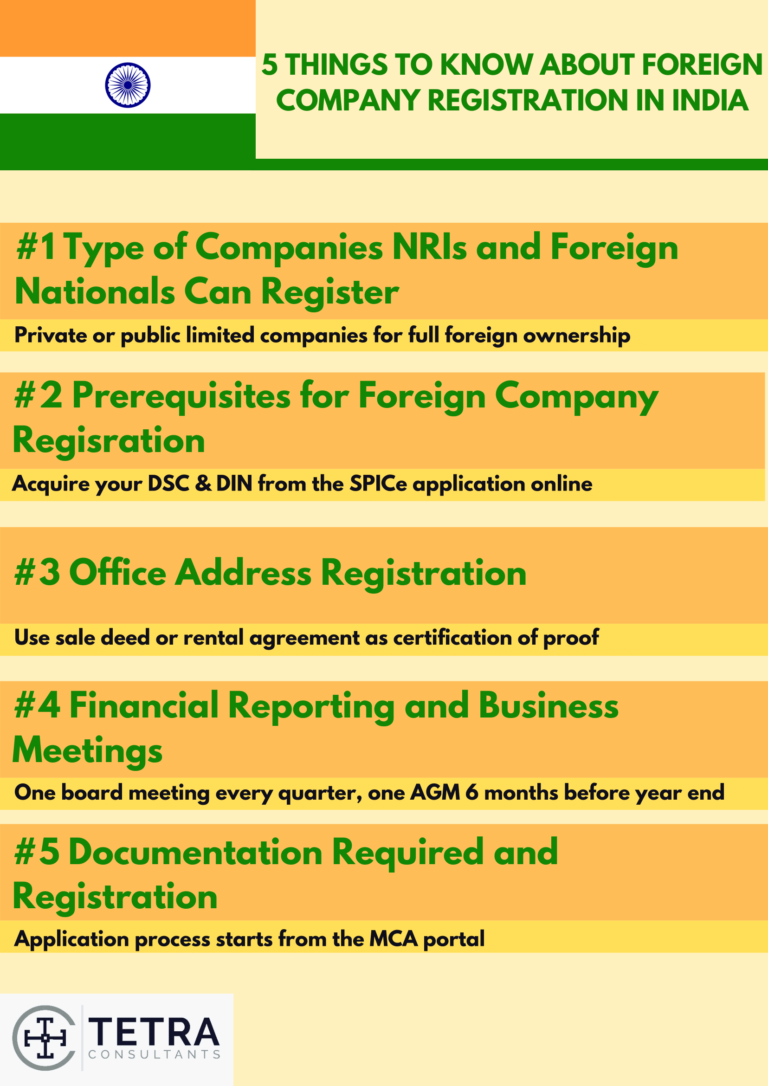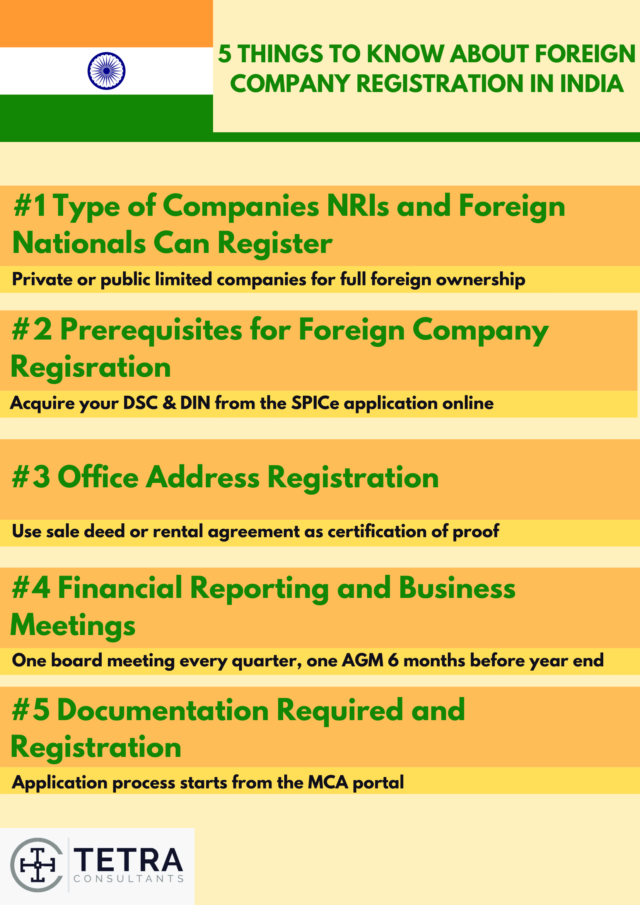 1. Type of Companies NRIs and Foreign Nationals can register:
NRIs (Non Resident Indians) and Foreign Nationals can register private or public limited companies or a limited liability partnership (LLP) in India. The three earlier mentioned entities will grant foreign company registration in India an automatic route into most businesses. This is in accordance with the FDI and Foreign Exchange Management Act (FEMA), restricting FDI to any other types of business entity such as a sole proprietorship firm, partnership firm or even a one-person company. Hence, given the operating conditions, the most ideal choice of business entity for foreign nationals would be either starting a public or private limited company.

To establish a public limited company, the minimum number of investors required is seven. A public limited company is allowed to have an unlimited amount of shareholders. To establish a private limited company, the minimum number of investors required is two. A private limited company is allowed to have up to a maximum of 200 shareholders.
2. Prerequisites for Foreign Company Registration in India:
The second thing to know about foreign company registration in India  are the prerequisites that have to be fulfilled before the company registration will be approved. According to India's Companies Act in 2013, NRIs and foreign nationals are allowed to act as directors in an Indian company. Prior to holding directorship, the NRIs or foreign nationals have to obtain a Director Identification Number (DIN) as well as a Digital Signature Certificate (DSC) first. Every company's directors operating in India will be provided with a unique Director ID. The DIN can be applied for during your submission of Simplified Proforma for Incorporating a Company (SPICe) process when you submit your articles and memorandums of association. The DSC acts as a digital signature to sign your electronic document and forms, and will be recognised by the Ministry of Corporate
Affairs (MCA) in India.

For a private limited company and public limited company, there must be a minimum of two and three directors respectively. Similar to both legal entities, there should be atleast one Indian citizen director residing in India for foreign-registered companies.

3. Office Address:
Before foreign company registration in India, the proposed company must have an office address in India prior to its incorporation. It is on the onus of the foreign investors to ensure this. Proof of office address can include the sale deed or rental agreement and must be submitted together during the filing process for incorporation.
4. Financial Reportings and Business Meetings:
According to the MCA, all resident companies operating in India are mandated to file their annual financial statements. The typical financial year period for businesses in India runs from 1st April to 31st March. It is also compulsory for foreign firms to hold minimally one board meeting every quarter and to schedule an An
5. Documentation Required and Registration:
The documentation required for foreign investors includes a copy of the passport and address proof (such as bank statement, driving licenses), and it must be notarised. Additionally, your due diligence documents have to be attested by the Consulate of the Foreign Embassy in India, prior to being used in the application process.

The process of foreign company registration in India starts by applying on the MCA portal. Once on the MCA portal, you will be prompted to fill up the SPICe form to begin your application process. During the submission of the SPICe form, you will also be prompted to upload all company related documents. Once approved, The Registrar of India will issue the certificate of incorporation.
Conclusion:
Engage Tetra Consultants as we guide you on how to start a business in India in a smooth and hassle-free process. The team provides a comprehensive service package that includes planning and strategizing with our clients to select a suitable business entity, completing the registration and documentation processes, obtaining required licenses, opening a corporate bank account, and ensuring compliance with the government regulations. 
Contact us to find out more about company registration in India and our dedicated and experienced team will revert within the next 24 hours.