New Estonia Cryptocurrency License 2020
自 December 2019, Estonia confirmed multiple changes to its existing Estonia cryptocurrency license regulations. The changes are applicable to both existing license-holders as well as new applicants. In addition, the changes also apply to companies that are currently holding the financial institution license.
截止至 2020年3月10日起,所有新的牌照申请人都必须遵守新规定。对于现有的牌照持有者,您必须在在 July 2020. Failure to comply will result in licenses being revoked. In the past, there are two types of cryptocurrency licenses in Estonia – Cryptocurrency exchange license and cryptocurrency wallet license. Going forward, they will be combined into one single umbrella license known as the Virtual Currency Service Provider license. Our team of experts is able to assist you to meet all additional requirements and ensure you are able to legally conduct cryptocurrency business using your Estonia entity.
New Estonia cryptocurrency license – summary of changes
The license is now known as "Virtual Currency Service Provider" license
爱沙尼亚金融情报机构 (FIU) 已将牌照申请审查时间从 30 天增加到 60 天,可增加至 120 天。
牌照申请费从 345 欧元增加到 3,300 欧元。
所需股本已从 2,500 欧元增加到 12,000 欧元。
在爱沙尼亚所需的经济实质—实体办公室、当地管理团队和合规官。
公司所有成员的非犯罪记录,无论其国籍如何。
企业银行账户应在银行或欧洲经济区国家的 PSP 开立。
Existing cryptocurrency license holders
Tetra Consultants will assist our international clients who are currently already holding cryptocurrency licenses in Estonia to meet the new requirements. Do note that you are required to comply with the new requirements before 1在 July 2020. In the event you do not meet the deadline, Estonia FIU will revoke your license.
Tetra Consultants will assist our international clients to increase the paid up share capital from €2,500 to €12,000. The additional fund is required to be injected into a corporate bank account in an EEA country. In addition, our team will assist to update the Articles of Association, reflecting the new share capital. Lastly, Tetra Consultants will file the same with Estonia Company Registry.
Tetra Consultants will ensure our international clients meet the additional economic substance required in Estonia. Our team will provide a physical office and prepare the lease agreement to be signed by all parties. Do note that virtual office is now not legally accepted as FIU representatives may carry out checks from time to time.
The new regulations require all Estonia cryptocurrency companies to appoint a local director. Tetra Consultants will provide a local director for your company and prepare the employment contracts. Do note that the new regulations allow the local director to be outsourced via a contract.
Tetra Consultants will assist our international clients to open a corporate bank account with a reputable bank or PSP in the EEA. See this webpage to find out more about our corporate bank account opening strategy.
Tetra Consultants legal team will review our clients' existing AML/CFT internal procedures. If required, we will edit the internal procedures and submit the updated version to FIU. This is to ensure that your company is in good standing.
New cryptocurrency license applications
The total estimated time frame to register an Estonia company and apply for cryptocurrency license is 12周。然后,特加商务咨询将为您的爱沙尼亚公司开立企业银行账号,此过程需要 4 周。在 16 周内内,您的爱沙尼亚公司将开始全面运营。
Alternatively, our international clients can consider to purchase existing shelf company with already-approved cryptocurrency license. Thereafter, Tetra Consultants will assist you to meet the additional requirements. For this fast solution, you can expect to begin your start operations within 9 周 instead.  See this 此网页 to find out more information.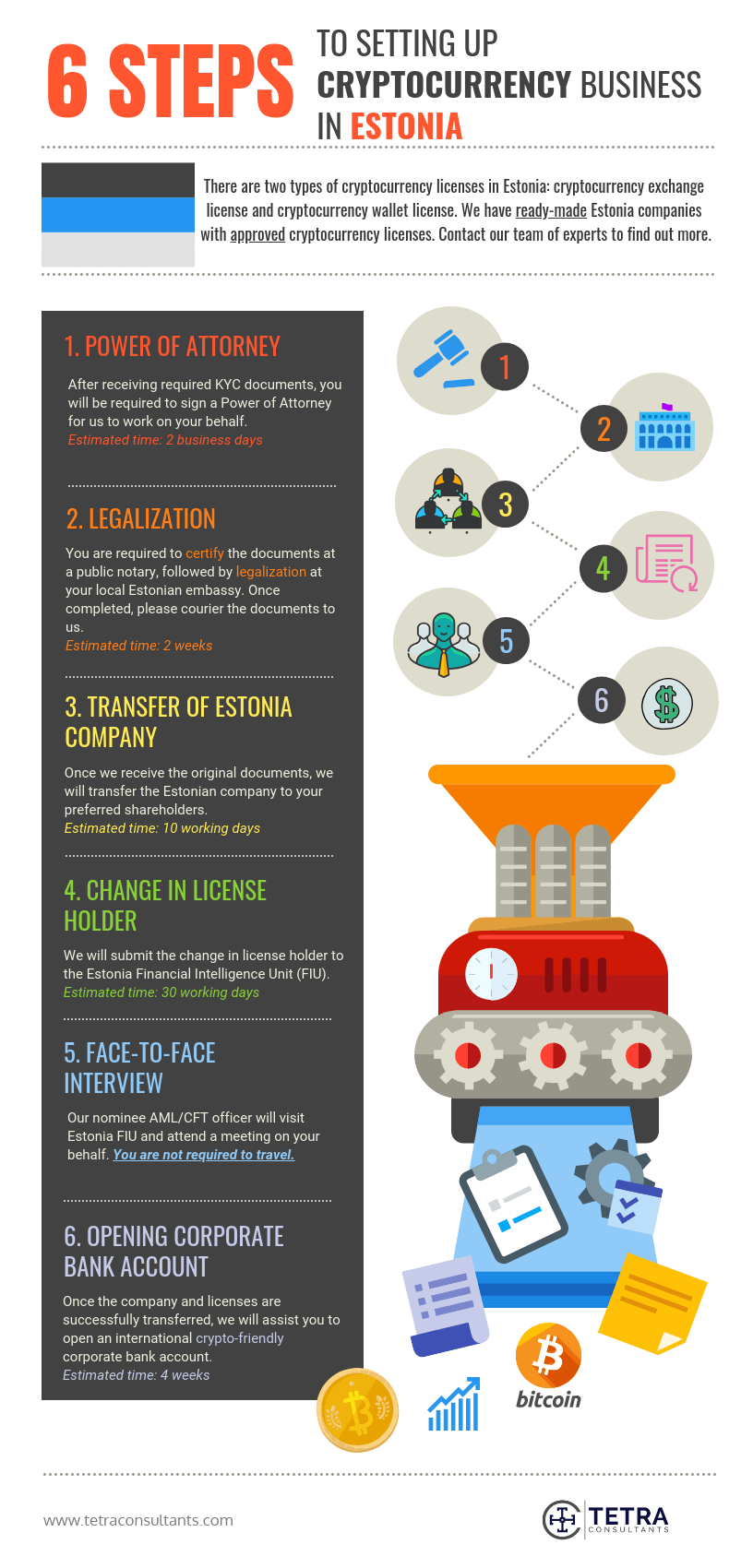 Tetra Consultants works closely with the Estonia FIU and is able to advise our international clients accurately regarding the new Virtual Currency Service Provider License in Estonia. 现在联系我们 免费咨询。